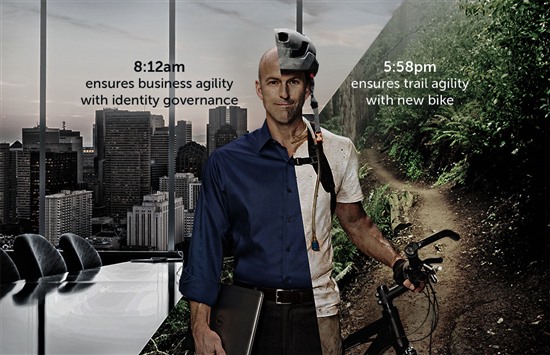 If you're like most people I talk to (and I only talk to IAM people), keeping up with the ins and outs of user accounts, privileged accounts, data and application access, and governance can be like having two, three or four full-time jobs. In addition to managing access for any variety of user groups — which are constantly moving targets — you have to be vigilant in avoiding security risks and still address those annoying compliance issues.
Cumbersome administration practices, failed access attempts, the need to keep your people productive, and disjointed controls and tools cause headaches. But worse, when something goes wrong, like a security breach or a new user population or access scenarios, your business can be at risk. So you end up working long hours troubleshooting and cobbling together different technologies in an effort to mend the problem. But there are always holes, and as soon as the next issue arises, you're working late — and missing out on your stress-reducing bike ride — again.
Finding work-life balance can be nearly impossible —your mountain bike slowly becomes covered with cobwebs in the garage, you can't remember the last time you went to dinner and a movie, you find yourself waking up in a cold sweat recovering from a dream about forgotten passwords, unchecked access, and a relentless auditor.
Reduce stress, increase compliance with the right IAM solution.
New security regulations are passed every year. It takes a lot of work to stay on top of the changes and even more work to figure out ways to address them. Often in the realm of identity and access management, we add new components and technologies to address the challenge of the moment — it's a process that takes time, costs a lot of money and often serves only as a bandage until the next problem pops up. Like patching your tire each time you get a flat instead of doing it right and replacing it.
It's enough to keep you off your bike and in the office — and very occupied during the day.
But with the right solutions to easily unify the entire process of defining users and controlling their access, much of your stress can be alleviated. Imagine being able to provision and manage a widely diverse user population from a single unified system with complete visibility and enterprise-wide control — and no headaches or late nights. Better yet, what if you could enable department heads and administrators to do it themselves? You and your team could stop spending your days resetting passwords, manually provisioning, and controlling new access scenarios and instead focus on initiatives that boost the larger business goals. And you can focus on beating your best time in your next race.
And then after 5, you can hit the trail with no worries.
We've written a Real IT story about an IT director at a prestigious research university whose IAM woes keep him from pursuing his passion for mountain biking. Our Real IT stories combine our customers' actual circumstances — in this case, identity and access management issues — and some of the circumstances that we believe surround them in their personal lives. Have a look at the story and then tell me about your own struggles with or solutions for finding work-life balance.