One Identity Partner Connect is the home of living wikis and discussion forums linked to our top product experts.
We wanted to update you on the connect authentication change which arises in from our goal to build a better, and more cohesive interface to our current connect.oneidentity.com service.
What is changing?
Technology/Architecture behind the login to connect.oneidentity.com is changing with this release. We will stop supporting SAML/CAM based Identity Federation. Once the users authenticate, the should have the same features/functionality/profile that is currently in place.
What replaces the current ID Federation?
We will support AAD based federation. Use "Sign in with Microsoft" : Option 1
For the partners that do not support ID federation via AAD, you can use your Quest/One Identity identity (these are the same credentials that enable you login to Quest Partner Circle – partners.quest.com) – Option 2
For partners that do not have AAD or Quest Identity, please click on Sign up on the login screen. Option 3.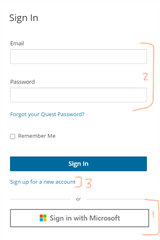 https://id.quest.com/auth/realms/quest/login-actions/authenticate?client_id=https%3A%2F%2Fportal.sso.oneidentity.com%2FCloudAccessManager%2FRPSTS&tab_id=6Ztfxj17sVE
Sign up screen: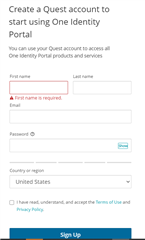 We trust that current users of One Identity Connect will continue to gain benefit from this Partner Service we provide and for others you are now intrigued to join.
You may contact : connect@oneidentity.com with any queries