Two years ago, in 2018, One Identity Partner, AspisID started the preparation of their Managed Support Services for One Identity solutions based out of Athens, Greece. They identified common issues for their clients that could be solved by taking over the support with an experienced and professional service.
Defining the processes and the support structure in which they could deliver remote support for multiple clients effectively and efficiently is not that easy. Especially when you look at the area they are working on. IAM is at the heart of the IT Security of every organization. When you do remote support in this area, you can only do that when you are compliant with the highest security measurements. The other challenge they saw was how they could monitor multiple One Identity Managers in an efficient, effective and intelligent way. How can they take care 24x7 of different environments, at various locations, with different secure connections and probably different laptops to continuously monitor the health of each installation? At that moment, the idea of Argos was born.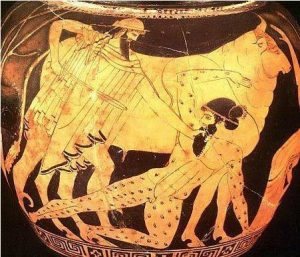 'Argos was a giant in Greek mythology, whose task was to keep an eye on Io (a nymph). He had 100 eyes all over his body, and two of them never slept'. For AspisID, this was exactly what they were looking for. They needed an Argos 3.0 for themselves to keep track and protect the performance of the different One Identity environments all over the world.
With this in the back of their mind, the product development of Argos started. They wanted to create a product that would really help ourselves to support our customers in the best way possible without being continuously logged in their networks and environments. At the same time, be able to react at once if a problem occurred and before the end-users would notice that.
They defined three design principles for product development:
Simplicity

Scalability

Security
With these principles in place, the journey started. Argos 0.1, became version 0.6, became version 0.9 and after almost 12 months the product was implemented for the first time.
The learnings so far:
It reduces support costs by at least 30%

The OI intelligence inside is growing day per day (the intelligence to

detect

issues in OI)

It easy to use.
Now they are starting the next phase in this journey and will open access to Argos to with other partners who could start using Argos for their own customers.
For more information, take a look at www.argosmonitoring.com
AspisID was recognised as a One Identity partner award winner in the Innovation Partner category at the One Identity EMEA Partner Awards 2020.