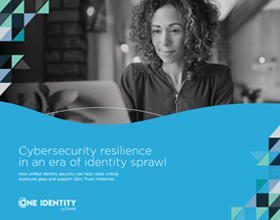 Download this eBook from One Identity to learn more about identity sprawl and the ramifications of a fragmented approach to identity security strategy.
In this eight-part overview, you will learn how to secure your organization as the traditional IT-security perimeter disappears, what to do about identity security as your mission-critical resources and data move to the cloud, and how to achieve cyber resilience and support a Zero Trust model.
This new eBook highlights ways your organization can bolster your defenses against modern attack methods. It offers simple, yet critical, ways to better protect your organization – and your reputation.
Learn how you can effectively balance productivity against security and:
Correlate all identities across your multi-generational IT landscape
Verify everything before providing access to your most-critical assets
Evolve as the threat landscape changes and become cybersecurity resilient
Deploy a Zero Trust model