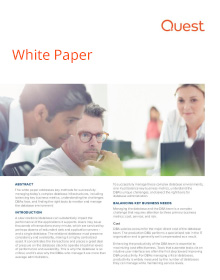 "Overall Identity Manager is amongst the most
interesting and intriguing offerings in the
identity provisioning and access governance
markets. It gets a clear recommendation for
evaluation in product selections." - KuppingerCole
One Identity Manager builds on a sophisticated, consistent concept which allows for intuitive user experience, rapid customization and easy deployment. Besides offering a rich role framework to support complex role management requirements, One Identity also supports dynamic rule-based provisioning to applications with complex role structures. With one of the broadest range of provisioning connectors in the market and advanced role management capabilities, One Identity Manager offers data access governance capabilities for managing access to unstructured data.
About the KuppingerCole Leadership Compass:
The KuppingerCole Leadership Compass provides an overview of vendors and their product or service offerings in a certain market segment. This Leadership compass focuses on the market segment of access governance, including specific capabilities for access intelligence. While most vendors offer either identity provisioning or access governance focused products, many others offer combined or separate products for both identity provisioning and access governance integrated into what is today frequently called IGA (Identity Governance and Administration).