Hello,
I just upgraded my environment to 7.1 in Dev.
I'm trying to configure a custom web interface on a server that had 6.9 installed.
I'm importing the custom interface from an export. It seems to work fine from a new servers.
Although when trying to import to a server that had 6.9 i get the following error.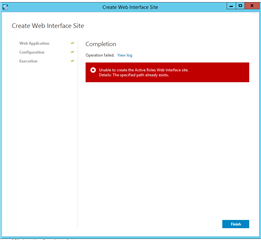 Does anyone know where i might look to delete this path?
I've made sure after the uninstall of 6.9 to remove the virtual websites but cannot see any references to the site i'm attempting to import.
Any help is appreciated.
Thank you,
Lu