In addition to our regular participation at the Gartner Risk and Security Summit and the Gartner Identity and Access Management Summit, One Identity will be at the Gartner Catalyst show – August 20-23 in San Diego, California.
The highlight, for us, at any Gartner event is our Solution Provider Session. At Catalyst our session is Wednesday, August 22nd at 10:45 AM in Grand Hall B.
The topic is: Hybrid Governance Demands Hybrid Execution and we'll be discussing the realities of securing a hybrid environment economically, conveniently, and above-all completely. Join Joe Campbell and Todd Peterson for a discussion loaded with real-world examples and actionable insights into getting identity and access management (IAM) right in your hybrid environment.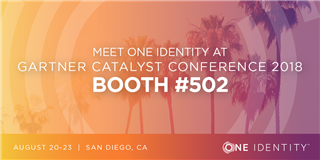 In addition to the solution provider session, we will also have a booth where you can discuss IAM with our experts, get demos of our latest IAM solutions including a full range of cloud-based identity-as-a-service solutions, cloud-ready governance, and the most modern privileged access management suite on the market. Look for us in booth #502 on the right side near the front of the hall.
So, if you're going to Catalyst we'd love to meet you.