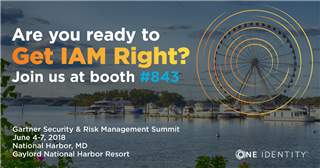 Every year leading companies gather in National Harbor, MD to commiserate and learn on the state of IT security and risk management –sponsored by Gartner. And every year we, One Identity, sign up to participate as well. After all, nothing helps manage risk and bolster security quite like getting identity and access management (IAM) right. And that's what we do – we help organizations Get IAM Right.
So if you're going to the show, look us up. We won't be hard to find. We're in booth #843 (that's towards the back and just a little right of center). But most important we have a session where three organizations that have achieved IAM success will be telling their stories. I'll be moderating and find that, every year, this session is the highlight of the week. So join me – along with Mars, Cavium, and IT Concepts (discussing one of their customer's successful projects). We'll cover access management, governance, and privileged management with insights on what worked, lessons learned, and pitfall to avoid as you approach your IAM project.
But that's not all, we'll be showing our full range of powerful IAM solutions at our booth; we'll have technical experts ready to discuss your project and help you find the right solution for your needs; and we'll even have a cool new Virtual IAM Experience that you can enjoy.
So if you're coming to the show, look us up … I promise it will be worth your while.