One of the highlights of the One Identity EMEA UNITE Partner Conference in Budapest was the Partner Celebration Dinner and One Identity EMEA Partner Awards 2019. There were twenty awards presented by a number of guest presenters alongside Ian Sutherland (VP & GM Sales, One Identity, EMEA).
A fantastic setting in the ballroom at the Corinthia Hotel in Budapest, Hungary provided a perfect evening for our prestigious partner awards.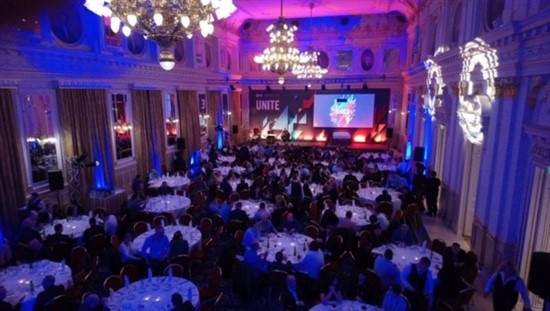 The Award Winners 2019

Long-Term Partnership: ACS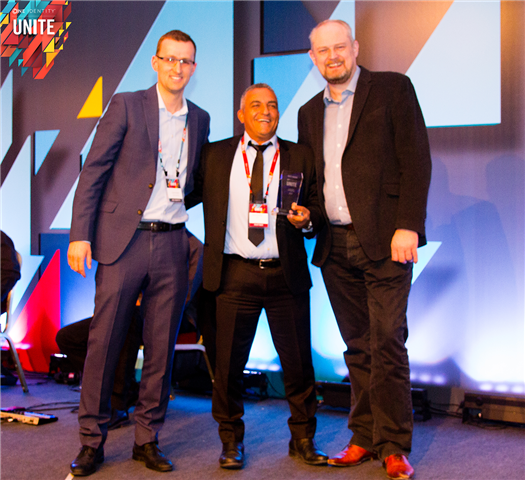 L - R : Jacob Fishelev, One Identity; Avner Beshari, ACS; Ian Sutherland, One Identity
Founded in 1996 by CEO Avner Bashari, ACS has gained a strong reputation for technological superiority, reliability, professional service, continuous support and strict adherence to schedules. The relationship with One Identity started in 1998, and serves over 500 clients in all sectors of the economy (military, insurance, commerce, finance, government, health, high tech, telecom, etc.), among them leading companies in Israel and abroad. ACS was also representing Balabit in the region, so the acquisition of that business by One Identity in 2018 amplified the overall relationship.

ACS's professional staff includes the best experts in infrastructure and development, system analysts, developers, DBA's, system personnel, information security professionals and consultants. Thanks to this team, they provide customers with comprehensive and advanced solutions, based on a local understanding of the unique characteristics of each customer and their demands.
ACS today employs over sixty people. Their motto "All you need and beyond" represents a commitment to understanding customer needs and offering an innovative technological solutions to every work environment.


Innovation: Tieto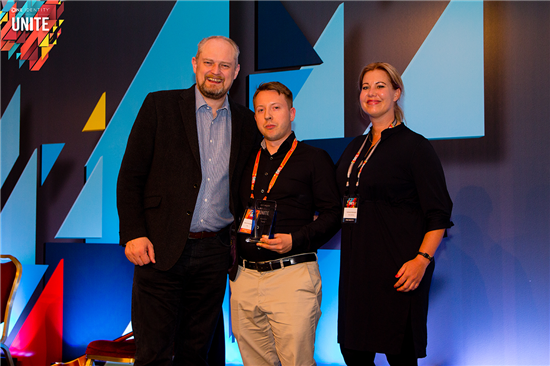 L-R: Ian Sutherland, One Identity; Lukasz Berezowski, Tieto; Catharina Ronnqvist – One Identity
Tieto is an IT software and service company providing IT and product engineering services, with approximately 15,000 employees and active in around 20 countries. In Feb 2016, Tieto founded an internal start-up to provide information security services that included Identity Manager enabling Tieto to provide customers with the latest technologies and solutions. Working with One Identity, Tieto developed a modular system that we could easily integrate into our own service offering, right down to a pricing model that scales in accordance with usage. They designed an overall package that is highly adaptable to customers' varying requirements and it can be delivered quickly. They have been able to target SMB customers with their platform that has now been extended to cover One Identity Safeguard.
Their customers are mainly large organizations that offer a range of services to businesses, consumers and citizens in the Nordics and beyond. Tieto ensure their customers' everyday business and services run smoothly, and help them create future success through smart adoption of technology and utilization of data.
As the relationship with One Identity delivers ongoing successes, we look forward to seeing their continual innovation to serve their broad base of clients.
Partner Video Profile: Advania
L-R: Ian Sutherland, One Identity; Jan Wisborg, Advania; Catharina Ronnqvist, Laureen Smith - One Identity
Advania is a leading Nordic IT-provider serving thousands of corporate clients in the public and private sector. Last year at UNITE in Nice, Jan Wisborg, Advania stepped into the video studio and recorded this short video: https://www.oneidentity.com/video/advania-supports-customers-all-across-the-nordics-with-one-identity-solutions8133680/
A fine example of getting IAM Right – they have built up strong experience in Active Roles and used that solution as a foundational IAM approach – expanding into Identity Manager. It means they are very adaptable and have seen One Identity solutions deployed within school environments where there are frequent requirements for joiner/mover/leaver actions. As well as closing and implementing projects they have been engaging in joint marketing and events as well as conducting Active Roles technique workshops.
Regional Partner of the Year - Nordics: Intragen Oy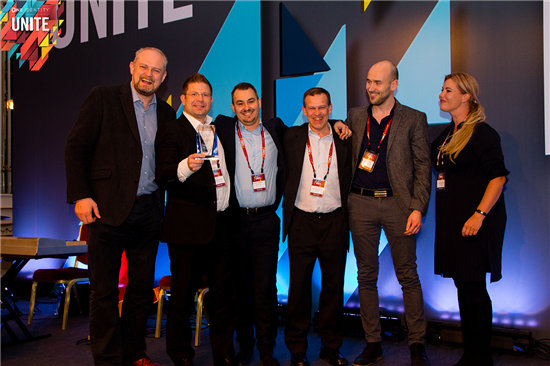 L-R: Ian Sutherland, One Identity; Samu Harrinvirta; Jonathan Sjöholm; Gregory Marschan, Kalle Niemi – Intragen; Catharina Ronnqvist, One Identity
This year Intragen Oy became a Platinum PLUS partner in the One Identity Partner Circle, and through strong collaboration with the One Identity team they were able to increase the successes and achieve increased market recognition in the Nordics region.
Coupled with their outstanding track record in providing consultancy and advice to clients covering Identity Management; Access Governance; Privileged Access; Data Governance and Access Management and expanding regional coverage in the Nordics - including a first success in Iceland - Intragen have a solid foundation to keep building upon. They have been able to apply their knowledge and experience to large-scale deployments to ensure that the IAM problems are well understood and implemented in the right way.
Congratulations to the Intragen Nordics team – your business approach is very welcome.
Regional Partner of the Year – Central Region: IPG Group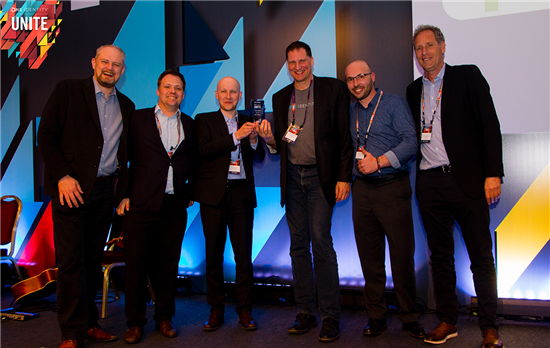 L-R: Ian Sutherland, Jan Becher - One Identity; Claudio Fuchs, Peter Weierich - IPG; Patrick Fischer, Pablo Bergengruen - One Identity
IPG Group cover Germany, Austria and Switzerland – and having established their relationship as a partner in 2009, continue to drive Identity Governance successes in the region. Developing their own practice with an experienced team as a Platinum Plus partner in One Identity Partner Circle, IPG are self-sufficient and able to drive new customer wins to success and beyond. In early customer engagements, they are able to provide presentations; RFx responses; PoC activities and demonstrations. IPG also develop new business through targeted marketing campaigns including lead generation; business breakfasts and conferences. Their successful training academy has continued to develop and deliver a wide range of One Identity training to meet growing market needs.
Regional Partner of the Year – UK: Burning Tree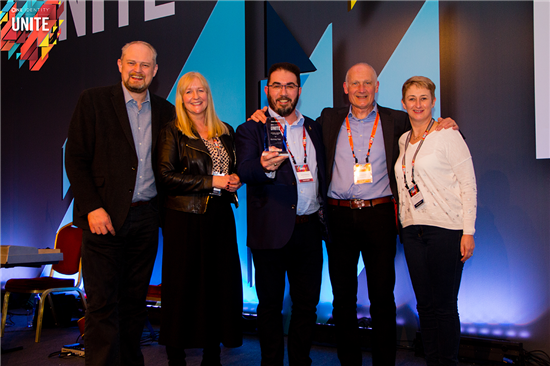 L – R : Ian Sutherland, Jane Aldwinckle - One Identity; Richard Menear, Les Parsonson - Burning Tree; Sheena Petts, One Identity
Burning Tree started as a security company focused on business processing and services. This was a different approach to most security companies at the time, which were concentrating on network technologies. By applying security to the business process, Burning Tree soon became a leading provider of security consulting services across many industries, solving practical real-world problems within identity and access management programmes. Today, Burning Tree addresses information security across all domains, including consulting services and business development, by working with some of the most innovative next-generation vendors and solutions.
The team at Burning Tree exhibit key traits, Experience; Knowledge; Respect & Authority. They have been working extensively with customers to help them understand and identify gaps in their security systems through the use of maturity capability assessments that utilise our proven reference architecture framework. By using maturity capability assessments as a benchmark, organisations are able to target, improve and measure progress more easily. They believe a holistic approach needs to be taken in order to identify vulnerabilities, while a commitment to continuous improvement is required to tackle deficiencies. Using innovative technologies and delivering control in a DevOps-style deployment will help to stem the flow of negative events. This means a more strategic programme of work is often required.
The main areas of focus for many of Burning Tree's customers centre on two facets of security protocol: security event management, and identity and access management.
Regional Partner of the Year – Central & Eastern Europe: 4iG plc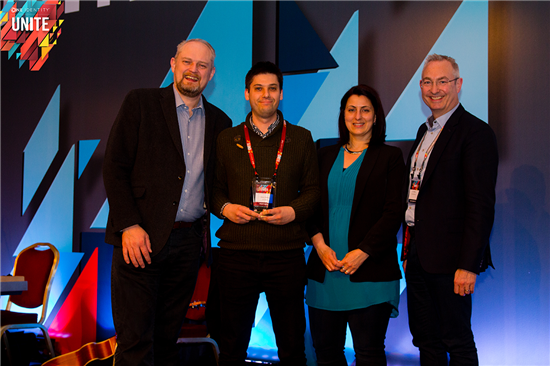 L – R : Ian Sutherland, One Identity; Gabor Gabriel, 4iG; Gyöngyvér Szabó, Jon Gillies - One Identity
https://www.4ig.hu/en/Home.html
Recent market consolidation, successful business strategies, and the arrival of new investors strengthened the company group called 4iG Nyrt. And positioned it for growth. '4i' is meant to represent the dynamic activities of the holding company and stands for "international, innovative, IT, investment), while 'G' is short for 'Group', referring to the company's group of subsidiaries.
The 4iG Company Group provides its clients with complex, high-quality services, thanks to, among other things, the continuous development of our product and service portfolio. Their aim is to become one of Hungary's most dynamically expanding companies with Hungarian owners and expert staff that serves all of its customers' needs. In 2018, 4iG achieved one of the region's largest deals within the oil sector.
4iG was a former Balabit Silver partner for the past 10 years and having become part of the One Identity Partner Circle has embraced the wider portfolio of One Identity solutions.
We look forward to the increased growth in relationship as we proceed through FY2020.
Regional Partner of the Year – Iberia: Omega Peripherals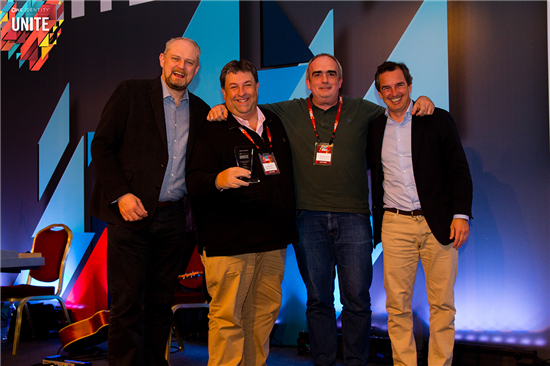 L – R: Ian Sutherland, One Identity; Oscar Gonzalez, Amado Coromias - Omega; Javier Gomez, One Identity
Achieving Gold Partner level, in the One Identity Partner Circle and operating across Spain, Omega Peripherals, a IT Systems integrator company has built a strong practice around One Identity solutions with ongoing complex deployments underway. The team at Omega, started with a good understanding of IAM solutions, and built out a sales and pre-sales capability to embrace the One Identity portfolio. They are able to design solutions for their clients across Spain with a strong emphasis in Madrid, Bilbao, Seville & Catalonia and they make them a reality. Expertise across many vertical sectors and security know-how that covers Identity Governance & Administration (IGA); Security Audits and Applications Security coupled with experience in providing managed services. Building meaningful marketing programs, they are able to leverage their wide market presence to ensure that their customers Get IAM Right. A very deserving win which shows the progress made in 2018.
Regional Partner of the Year – Benelux: KPN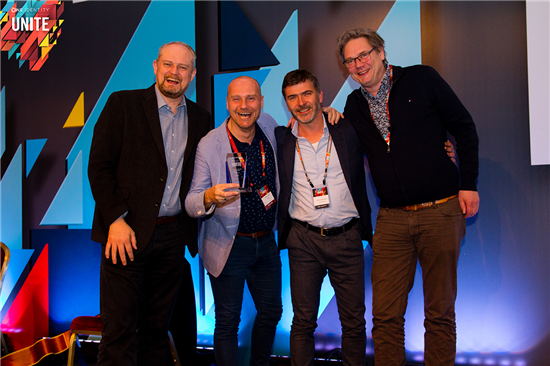 L – R : Ian Sutherland, One Identity; Mathijs Valk, KPN; Mark Uppelschoten, One Identity; Onno van der Linden, KPN
KPN is a leading telecommunications and IT provider and market leader in the Netherlands. A newcomer to One Identity, KPN has seen tremendous success in FY2019 with sales of One Identity IAM solutions to new customers. One of the KPN customers was looking for an identity solution and true collaboration – and the customer was convinced that the combination of KPN and One Identity was the right fit. The drive and commitment of KPN to work together with One Identity in this and future cases is an example of true partnership, no reservations but true trusted cooperation which is the basis and success of our cooperation.
As well as the sales drive, KPN demonstrate a willingness to invest in the relationship with innovation at its heart driving towards the provision of Identity as a Service to mutual customers. FY2020 looks set to be a ground-breaking year in this relationship.
Regional Partner of the Year – France: Metsys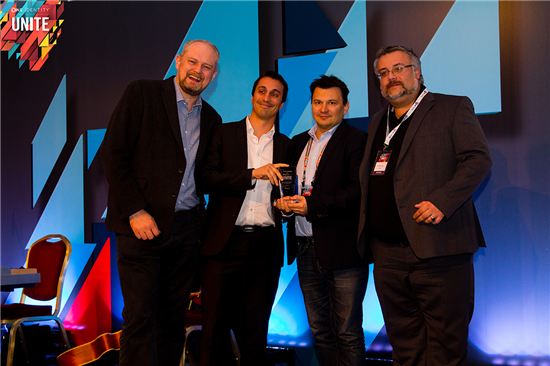 L-R: Ian Sutherland, One Identity; Guillaume Mathieu, Metsys; Didier Pasutto, One Identity; Yannick Varloud, Metsys
METSYS have proven once again that by growing their IAM practice with One Identity embracing Access Management and Identity Governance, they are an ideal partner for enterprise class customers in France. They have now established a great team of IAM professionals who can work with customers to tackle the most complex IAM problems. METSYS advises its customers throughout their projects, from the design phase to the implementation phase and even support. Their IAM practice has been established through a permanent training of employees; a regular renewal of their certifications; their active participation in programs of introduction to new technologies and close links with Microsoft. METSYS have a thorough understanding of One Identity solutions that serves the demands raised by key enterprise businesses across France.
This past year has seen Metsys has extend a deployment of One Identity Manager to a French food services and facilities management company headquartered in Paris as well as several new customers. Metsys continues to build on the foundation for a firm successful future with One Identity.
Regional Partner of the Year – Italy: NTT Data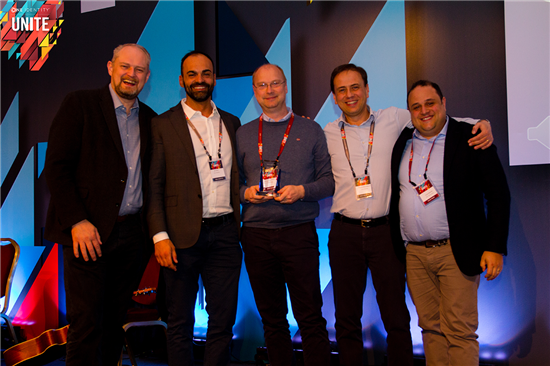 L – R : Ian Sutherland, One Identity; Jan Kalcic, One Identity; Santo Amendola, NTT Data; Massimiliano Micucci, One Identity; Carlo Mancini, NTT Data
NTT Data, Italy have committed to grow their business in IAM with One Identity building on strong knowledge gained from working in the industry. By investing in certified resources covering the One Identity Safeguard PAM solution, and now Identity Manager, they are suitably positioned to take advantage of the innovation from within One Identity that offers integrated Privileged Access Governance (PAG). With knowledge firmly in place, NTT Data have immediately been effective and secured a major PAG solution win in Italy and now mapping their customer requirements against the One Identity solution, driving a robust growth business plan for FY20.
We are looking forward to a very productive relationship with NTT Data – truly a game changer for our business in Italy.
Regional Partner of the Year – Emerging Markets: Jet Infosystems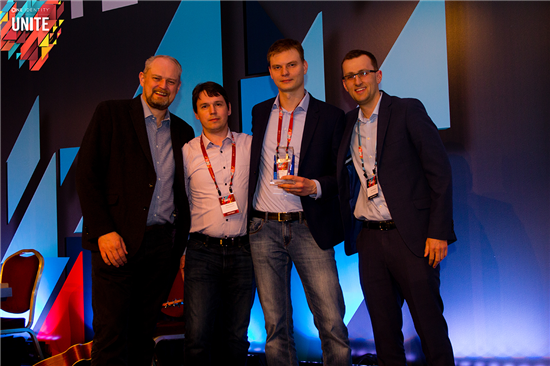 L – R: Ian Sutherland, One Identity; Alexey Kuzmin, Iaroslav Zhironkin - Jet Infosystems; Jacob Fishelev, One Identity
Jet Infosystems, operating across many CIS countries with a HQ in Moscow, Russia, is one of the most experienced regional System Integrators for Information Security and specifically for IAM area. Jet Infosystems have been selling and implementing Identity Management offerings for a number of years with approximately 30 IGA projects covered and now focused on One Identity Manager as the solution of choice in their market.
Jet Infosystems is regarded as a center of expertise for IAM in the Russian market and a valuable partner for One Identity. Customers work with them to advise and define suitable solutions to meet their needs. Jet is very active in IAM advisory business and creating new content (articles, reviews) on IAM topics.
Regional Partner of the Year – Middle-East: Smpl ID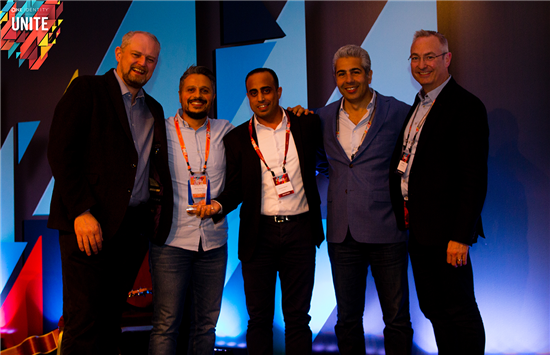 L – R: Ian Sutherland, One Identity; Hicham Barnoussi, Romany Gamel - Smpl ID; Amer Chebaro, Jon Gillies - One Identity
Making a recent decision to create more focus to the different practices under Exceed IT Services, Smpl ID was formed as a spin-off of the IAM unit into a separate company. This move allows them to focus, grow and respond faster to the changes in the IAM market landscape – but still operating under the Exceeders umbrella.
The team have progressively built a strong IAM practice, led by Romany Gamal, with One Identity serving the middle-east region and driving some key customer successes, specifically several deployments of One Identity IGA solutions. Their hands-on experience covers solution development, design, architecture, and implementation of projects that has proven very effective in building a strong IAM practice with One Identity. With their new found independence, we anticipate further growth in serving their customer in this region and beyond.

Outstanding Channel Campaigns – Edwin Stuiver: Dell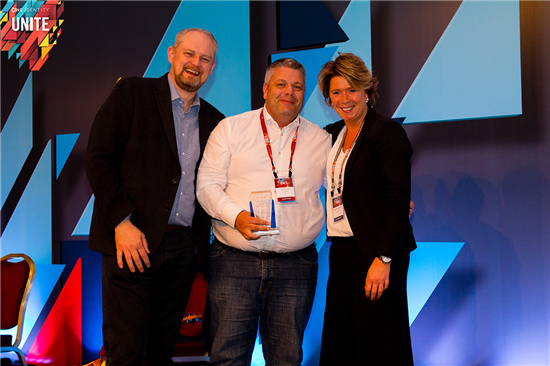 L – R: Ian Sutherland, One Identity; Edwin Stuiver, Dell; Alessandra Wittner, One Identity
This award is unique in that it recognizes the focused efforts of an individual, Edwin Stuiver in driving and executing campaigns for One Identity solutions. During FY2019, over 12 campaigns were successfully executed across seven countries with dedicated follow-on efforts to develop interest further.
As a partner, Dell has embraced the full scope of One Identity portfolio and seen the potential to make a difference within their established customers. Edwin has been the key liaison between One Identity and the multiple opportunities – both large and small - across Europe. Particularly key to the successful execution of the campaigns was dedicated training for the regional software sellers within Dell. And the introduction to the right team members within each country.
Building on the successes of FY2019, as we proceed through FY2020, a comprehensive business plan is driving continued execution to achieve further growth.
This award to Edwin is a valuable reflection of the commitment from the wider team as they engage the market and help their customers #GetIAMRight.
EMEA Best Solution Sale: Computacenter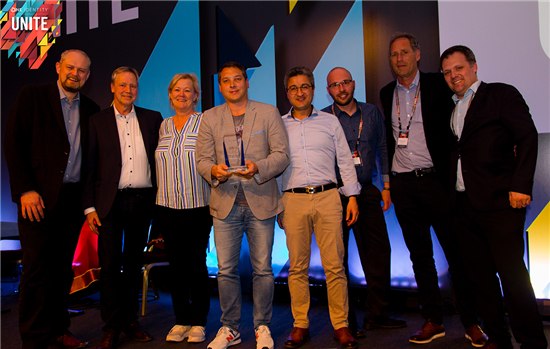 L – R : Ian Sutherland, One Identity; Thomas Maurer, Stefanie Alfer, Bastian Meyn, Shahriar Saravandi-Rad - Computacenter; Patrick Fischer, Pablo Bergengruen, Jan Becher - One Identity
Computacenter is the leading independent provider of IT infrastructure services, enabling users and their business in a digital world. Rated at the highest level of Platinum Plus in the One Identity Partner Circle, Computacenter is a significant partner relationship for One Identity. Working together and with a focus on top-tier podium accounts for Computacenter, One Identity and Computacenter accounts teams have created a strong trusted bond.
This award for Best Solution Sale, a multi-million Euro success that was masterminded by Bastian Meyn for one such podium account. Supported strongly by a knowledgeable IAM practice in Germany, Bastian was able to position One Identity as the right solution for his customer. The sale has been exemplary best practice from the start to finish. All key stakeholders were involved on both sides and that made all the difference to a successful outcome for this customer.
We know that as the relationship continues to grow, further podium accounts will adopt One Identity solutions and Computacenter will be the provider of choice throughout the life-cycle.
EMEA Best New Partner: AspisID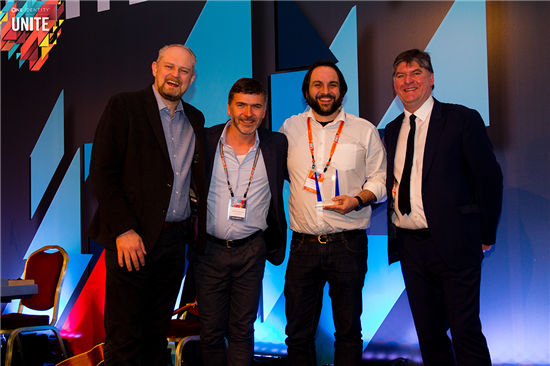 L – R: Ian Sutherland, Mark Uppelschoten - One Identity; Ciro Guariglia, AspisID; Andrew Clarke - One Identity
ASPISID has shown that starting a new business 10 months ago can result in a great business, now with over 14 people working on One Identity projects in Benelux (Dutch Bank), Greece (Greek Bank) and Italy. A new kind of partner with focus on developing talent and creating products and services around all One Identity solutions. They are in their next phase and moving from working on One Identity projects to selling projects and licenses themselves.
EMEA PLUS Partner: Computacenter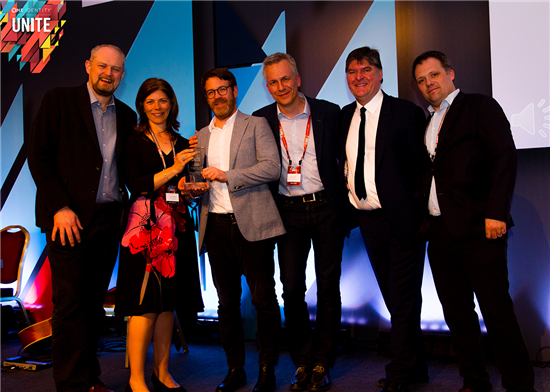 L – R: Ian Sutherland, Carrie Woods, One Identity; Jan Mueller, Peter Schill, Computacenter; Andrew Clarke, Jan Becher, One Identity
Computacenter is rated as a PLATINUM PLUS partner in the One Identity Partner Circle, a position established by a 35+ strong IAM practice that has grown over the past 10 years to be a well-rounded and knowledge team of IAM professionals. Computacenter helps organisations safeguard data, simplify compliance and enable users with holistic security solutions.
Computacenter also advises organisations on IT strategy, implements the most appropriate technology, optimises its performance, and manage their customers' infrastructures. Computacenter provides user support, supply chain management, and secure provision of applications and data to support individual working styles and improve collaboration. To achieve this, they assist with consulting as well as the implementation and operation of networks and datacenter infrastructures on or off customers' premises and in the cloud.
As a key component of Computacenter's Digital Trust portfolio, One Identity forms the heart of a solution that creates trust and secures a business and reduces operating costs, improves service quality and protects data, identities and jobs.
In deploying complex Identity and Access Management solutions, a customer depends on the knowhow of their partner, and Computacenter is present throughout the life-cycle – from design- to deliver and onto implementation and afterwards supporting the customer to maximize their investments.
EMEA LOG MANAGEMENT (syslog-ng) Partner of the Year: Axenta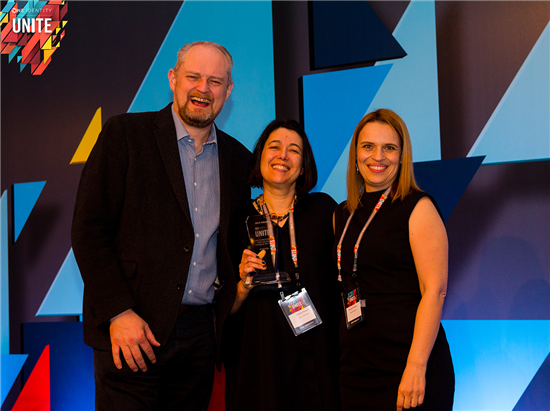 L – R: Ian Sutherland, Cristina Pereira, Krisztina Fischer, One Identity
AXENTA is a young, dynamic company operating as a systems integrator in the area of complex security solutions and services. They show their clients the optimal route to building, operating and improving the security management system of ICT.
AXENTA have been committed to our log management (syslog-ng) solution for a long time now, and they have a deep expertise to be able to deliver projects to customers on their own. Most importantly they are always open to provide feedback on our developments and to beta test new features, they always offer detailed, honest and thoughtful analysis.
AXENTA has deep knowledge and perfect mastery of process analyses and creative implementation of the results for the benefit of the customer.
EMEA DISTRIBUTION Partner of the Year: Aflex Distribution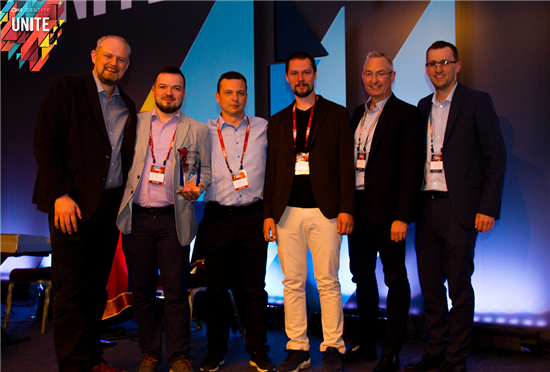 L – R : Ian Sutherland, One Identity; Dmitry Durov, Denis Tatarintsev, Egor Chernyshov - Aflex; Jon Gillies, Jacob Fishelev - One Identity
AFLEX DISTRIBITION is a really strategic partnership for One Identity and had a fantastic year in FY2019. They concluded many new Identity Governance and Administration (IGA) deals driven by a team of dedicated sales, pre-sales, post-sales and their own training team.
Several major wins in infrastructure and financial services markets in 2018 for One Identity Manager show AFLEX acting as a Value-added partner.
We look forward to more of the same in 2019.
EMEA Partner of the Year 2019 – IPG Group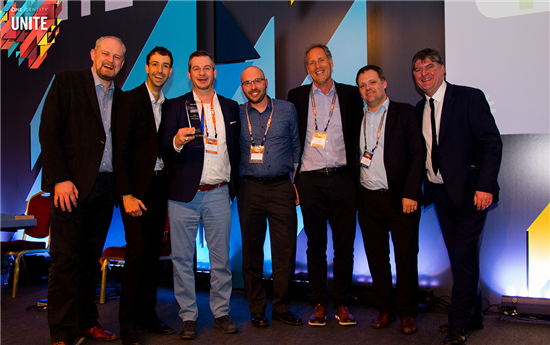 L – R: Ian Sutherland, One Identity; Michael Petri, IPG; Marco Rohrer, IPG; Patrick Fischer, Pablo Bergengruen, Jan Becher, Andrew Clarke – One Identity
The IPG Group is a leading expert for integrated IAM solutions and a reliable partner for all challenges with respect to identity and access management.
IPG Group as a One Identity Platinum Plus business partner assumes the overall responsibility for the IAM solution, from the concept, the strategy, the project implementation to the entire application operation and does that over several years.
This results in added value for the customer is a single IAM provider, both in the project as well as in the application operation. It reduces interfaces and massively increases the effectiveness of strategic, tactical and operational activities. In 2018, 15 customers with One Identity Manager benefit from sustained operation capacity and comprehensive care by the IPG service manager.
IPG Group also operates the IPG-Academy which provides One Identity Manager product Training. This is modular design for a customized, in-depth training with predefined standard courses for various user roles such as help desk, IT support and engineer.
IPG Group really deserve the recognition they gain from being One Identity EMEA Partner of the Year 2019 – celebrating 10 years since IPG has been a partner from 2009 with increasing commitment to One Identity year over year.
We look forward to IPG Group continuing to grow their IAM business in FY2020.