We have recently made several improvements to our product RSS feeds. They are now updating in real time so that you can immediately see any new content posted for the product you have an interest in.

From our Support portal, when viewing a product, you will find a section called 'Self Service Tools' in the left hand rail and at the bottom a link to "RSS Feed".



From here you can filter by month and by category as desired. We currently retain three months worth of updates.

This feed will include all main categories including recently released hotfixes, new and updated knowledge base articles, product life cycle changes and more. Allowing you to stay up to date more conveniently.

These feeds can also be included in any RSS aggregator by clicking the 'Subscribe' button.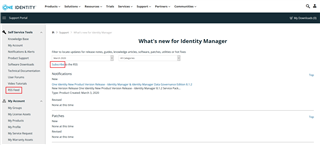 For an example on how to utilize this tool and links to all current product feeds please see this KB article. This provides and example to add the feeds to Microsoft Outlook but any RSS Feed reader should work.

https://support.oneidentity.com/kb/315171/how-to-utilize-real-time-rss-feeds-to-stay-updated-on-one-identity-products