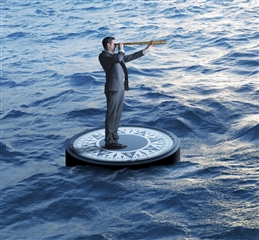 Ok, let me paint the scene for you: so let's say you're one of 2 or 3 folks on a small IT team whose job it is to make sure the entire company is humming along smoothly (I know. I know. Stay with me here…) You think your teammates are great. You work well together and know how to get things done together. The only problem is, well…. Do you know that Breton boat prayer?
Dear God, be good to me;
The sea is so wide,
And my boat is so small.
So here's the sea: your company has more than 10,000 employees, about 1,000 stores in 19 countries, and guess what? It's still growing. And to add to the rough waters, local IT teams in each of those 19 countries have implemented their own unique naming conventions for Active Directory. You know what that means, right? No standardization. At all. One country uses the a last name for access. Another uses initials, and so on. One more thing in these tumultuous waters - the approval process for domain admin access is, well, let's just say it's a bit unclear.
So there's just you in your tiny IT boat in this massive sea of unstandardized AD growth.
I assure you, this is no whale's tale. This is exactly the scenario Michael Gorm Jensen, System Administrator IT Server Operations, for Denmark-based international home goods retailer, JYSK Nordic and his team found themselves in. And wow, was their IT boat taking on water fast!
So to streamline and gain control of the complex Active Directory infrastructure, JYSK implemented Dell Active Roles into its Active Directory (AD) environment, which immediately paid off by delivering enhanced management, tighter controls. Immediate the waters calmed and the boat became level. But it gets better. Soon after the implementation, Dell Active Roles reduced domain admin access by more than 90 percent. The small IT boat was now starting to sail (and you can learn more here
Jensen and his small team began to see more and more benefits with Active Roles, including such precious time-savers as reduced call volume to the service centre, accelerated change management capabilities, and more.
In the heart of the JYSK sea is now calm, clarity, and surprisingly, a bit of a party mood. This ship has caught the winds and is sailing on!