Another Gartner Security & Risk Summit has come to an end
I just returned home from another wonderful Gartner event in the DC area from which there were many highlights. Below are just a few of the key takeaways.
On the identity and access management front there were several trends of note.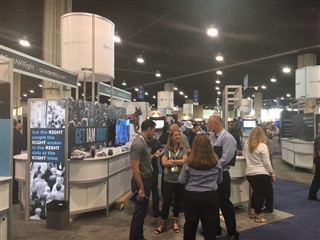 Fidget spinners were all the rage at the expo. One Identity was giving away a white one. SonicWALL an orange one. I believe the unwritten game was to collect as many as you could in a variety of colors.

The IAM Magic Quadrants are changing. Finally, Gartner announced publicly what we have been telling them privately for years; namely, that the cloud (i.e. identity as a service, or IDaaS) is not a market – it's a delivery option. To that end, Gartner announced the end of the IDaaS MQ. Much of the material previously covered in that MQ will be moved to the Identity Governance and Administration MQ led by Brian Iverson, Felix, Kevin Kampman and Perry Carpenter. The remainder of those topics will move to the newly-delivered Access Management MQ. We at One Identity applaud this move. For years, it's been our contention that organizations continue to solve business problems like security, governance, privileged account management and access management where "cloud" is just a delivery option. The business imperatives remain paramount to the technology used to deliver them.

The One Identity Solution Provider Session grows and grows. This is the third or maybe fourth time we've done this session. And unlike other vendors who take the opportunity to pitch their latest wares, we invited three customers to tell their tales from the trenches. This year's was the most highly attended. If you go to any Gartner event where we have a speaking session, please consider attending to grow your network and hear how other customers are getting IAM right.
From a broader perspective it was a sobering week. Of course, right across the Woodrow Wilson Bridge from the event (which is technically in National Harbor, Maryland) is Alexandria Virginia. On Tuesday we woke up to the atrocities that occurred in Alexandria where a lone man shot and wounded several people including a congressmen practicing for the annual congressional baseball game. To know such an event could happen—and happen so close—is a frightening experience to be sure.
In addition, on Wednesday morning, the keynote speaker was John Brennan, who was the CIA Director for four years under President Obama. He gave a humbling speech, opening my eyes (and I am a grizzled, crafty, ring-wise veteran of the cyberwars) too many ethical and technical issues that I had not ever considered. For example, in the States we have the second amendment which gives us the "right to bear arms." Could malware be considered an "arm?" If I find a vulnerability and use it, am I covered by this amendment? Or consider a government agency which discovers a vulnerability, one that they could use against an adversary. In the spirit of government / private enterprise cooperation, is that agency obligated to report it which would enable the vendor to fix it, rendering the attack vector moot? I think we know the answer to this, but the flip side of that argument is, should a government knowingly expose its citizenry to harm? Shouldn't it do what it can to protect its citizens? Lastly, Mr. Brennan made a passing remark to his ever-growing, never-ending inbox. Immediately I thought of my inbox which consists of (mundane) topics like staff meetings, budget considerations and upcoming release dates. Of course, Mr. Brennan's inbox is slightly different. He said his consists of issues like dealing with Iran, the atrocities in Syria, missiles from North Korea and the latest terrorist attack in Europe. It made me stop worrying about my inbox.
Regardless, it was another great event. And we at One Identity would like to thank all of you that stopped by to say hi. Our next stop on the Gartner circuit is Gartner IAM Summit in Vegas. See you there.