Safeguard is our newest entrant into the world of privileged access management. It ships today and is available globally and in as many as 11 different languages. You can learn more about the product on our website.
So how does one of the largest pure play IAM vendors actually create a ground-shaking new product in the age of incremental version updates? It's quite a story and it starts with a diet coke, a vodka gimlet and you, our customers.
You see, years ago, we acquired a company called e-DMZ and armed with that product, which we now know as Privileged Password Manager and Privileged Session Manager, we grew revenue faster than market rates for years. Yet we knew that we could deliver even more and through the laser-focused vision of Tyler Reese, the product manager for our privileged access management products and whose nickname is "Chuck" for reasons unknown to all, and Jackson Shaw, the director of product management for all the One Identity products and whose nickname shall remain a mystery for all but his closest friends the idea One Identity Safeguard was born.They envisioned a solution that was aligned to the greater One Identity portfolio such that it scaled to meet the needs of the largest enterprises, was offered in a modular & integrated manner, complete in its capabilities and was the most secure option available – and imminently affordable. So, one late night in a dark and dusty hotel bar, as Chuck and Jackson drew this out on the back of a napkin, the vision emerged. A replica of that faithful napkin is pictured on the right.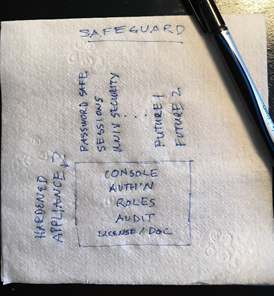 The next thing to happen as is oftentimes the case in the world of high tech, we created a PowerPoint deck.This deck was shown to customers, prospects and analysts and over time, the defined list of features emerged for what would be in Safeguard and when.
Next, Tyler and Jackson enlisted the help of our Chief Architect who we also call "Care Bear" because of his kind and cuddly demeanor. Anyway, once this thing was completely architected, the next step was user experience – and this is but one of the areas where One Identity Safeguard shines. Mark Stillman, our lead UX designer, spent some long nights and weekends designing the interface to make it shine. It's not often that IAM solutions elicit "Oh"s and "Ah"s when demoed, but for the last two or three trade shows I have been at, prospects are drawn to the shiny new product at the stand and proclaim their appreciation for the elegant design and ease of use. Who knew tech could be cool at the same time?
So who needs Safeguard? The short answer is "everyone." Or at least every organization. Safeguard is a privileged access management solution. Privileged access management is the ability to secure and manage the admin credentials of pretty much every piece of IT infrastructure in an organization. So One Identity Safeguard checks that box. But what makes it special?
It's secure by design – Privileged access management solutions that are delivered as software are inherently flawed. They must be installed on hardware and then access to that hardware needs to be secured, but often isn't. Safeguard is delivered as a hardened appliance. Just plug it in and you're off. And it's hardened which means it's not vulnerable like other, software-only solutions. Plus, since the hardware is included, it's less expensive.
Its security is "frictionless." Ok, so what does that mean? It means this thing was designed for your computer. And your tablet. And your smartphone. Even if you have an account emergency right before the credits roll at the end of Spiderman, you can still solve the problem – fast and easy.
Scalable – Since the hardware uses a distributed architecture, you just add devices to support larger and larger environments. Global? No problem. Remote admins? No problem. Safeguard has you covered.
Audit inside – Let's face it, the need to secure privileged accounts is twofold. First, it's a security imperative. Second, pretty much every regulation or recommendation, from PCI to NIST, calls out privileged access management as a requirement. One Identity Safeguard excels in this audit area as well. One Identity is known as the "governance IAM" business. Few others understand the audit imperative as well as we do and Safeguard pays homage to that legacy.
Still not sure if One Identity Safeguard is for you? That's ok. You have time (but not too much because, as we like to say in the security game, there are two types of customers: those that have been hacked and those that are about to). If you'd like to learn more about Safeguard, be sure to check out our upcoming seminar series. You can register for any one or all of the sessions to learn how Safeguard can protect your organization and look good doin' it.