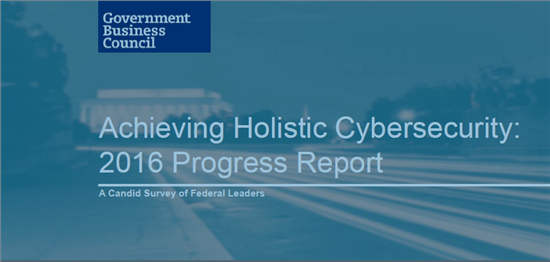 The past few years have seen an explosion of high-profile cyber attacks on federal agencies. The federal IT system was successfully penetrated over 77,000 times in 2015 alone, according to a recent FISMA report. As the cyber landscape becomes more complex, it is increasingly difficult to protect from the unknown.
It is no surprise cyber confidence is waning. A survey conducted by the Government Business Council revealed an alarming drop in federal leaders' confidence in their agencies' cyber abilities over the past two years. The survey identified a 30-point drop in respondents' confidence in their government's ability to protect information systems from cyber intrusions, representing a drop from 65 percent confidence in 2014 to only 33 percent in 2016.
The top two security threats highlighted in the survey were email embedded with malware and phishing attacks, identified by 63 and 62 percent of respondents, respectively. These attacks are successful thanks to human error, but can also be mitigated with the right combination of technology and education.
When it comes to developing a robust cyber strategy, workforce education is important, but it must be implemented in congruence with the right technology to back it up. The cyber threats identified in the survey can be addressed by a holistic security plan that includes identity and access management (IAM) and advanced approaches to network security. Human nature is difficult to change completely, but with an end-to-end security strategy, agency networks are more effectively protected from the threats that are causing the biggest concerns.
Holistic security must start with IAM. IAM should be employed to limit user access to only the information needed, reducing the likelihood of a hacker securing sensitive information. As a result, the impact of malware and access gained from phishing attacks is limited. IAM can also enable context-awareness to ensure security is enhanced without impacting productivity. In a context-aware environment, it is possible to detect abnormal activity based on attributes like from where and when a user is attempting access, and to proactively adjust authentication methods accordingly.
Next-generation firewalls are another critical part of holistic security that can support a context-aware environment. By using data from servers, network switches and firewalls, it is possible to identify unwarranted access and abnormal activity before intruders reach sensitive information. This information can help agencies approach security more proactively, which is critical in today's ever-changing threat environment.
By implementing context aware security solutions, agencies will have an extra layer of protection against the threats revealed by the survey. Learn more about our findings here:

Our end-to-end security solutions can help your agency to take a proactive approach to the cyber issues of today and tomorrow. Learn how our offerings can provide your agency with holistic security: https://www.quest.com/solutions/endpoint-security/