In the coming weeks, you will undoubtedly hear more from us about One Identity UNITE. UNITE is the new name for our growing series of events that bring together our user and partner communities to learn, collaborate and have fun. We will debut the UNITE name this fall in lovely Newport Beach, Calif., October 2–5. We're also debuting this cool hashtag: #OneIdentityUNITE
@ The User Conference
The user conference portion of One Identity UNITE covers a broad range of business and technical content. You'll hear from John Milburn, the president and GM of One Identity and Scott Crawford of 451 Research. You'll also hear about our upcoming roadmap for all of our products from Jackson Shaw, senior director of Product Management. We have customers sharing their experiences on how their organizations deployed and got value from their One Identity products. And that's just day one.
We will also have a "speed dating session" where you can request brief, one-on-one meetings with One Identity executives, our partner team or any of our product managers. In addition, representatives from One Identity will share experiences with GDPR and how we are handling this important piece of legislation. On day two, it gets technical with specific tracks for our Identity Manager and privileged access management solutions. We'll have product managers, subject matter experts and developers on hand to share the latest product and technical information – and to answer your pressing questions.
@ The Partner Conference
The partner conference kicks off the One Identity executive team discussing how our partners can ensure they can #GetIAMRight. We'll be again hearing from John Milburn and Jackson Shaw – as well as Andy Vallila, leader of One Identity's North American sales team and Terry Ferose, global leader of our professional services organization.
On day two, like the user conference, things take a turn for the technical. Adrianne Ward, director of One Identity's technical pre-sales organization, and her team will discuss the current - and future - set of One Identity solutions and how partners can use these products to increase revenue and margin in the coming year.
So whether you're a One Identity customer or partner, the knowledge you gain at the Newport Beach event will be priceless to your organization. But alas, it's far from the last occurrence of One Identity UNITE. We already have more events in the works. Here's a schedule of upcoming UNITE events: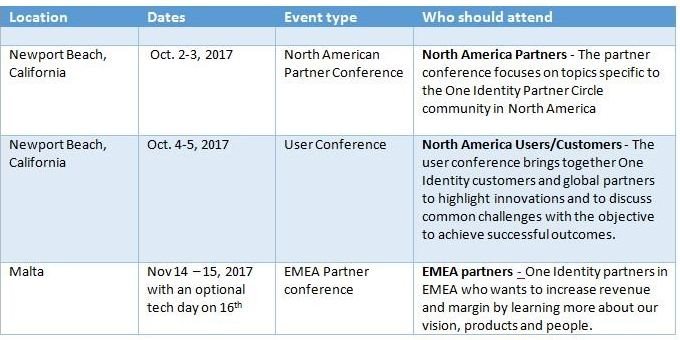 #OneIdentityUNITE