See the winning team and its Guitar Hero app 18 April (Budapest) or 24 April (Veszprém)
Summary
The four-person team in Veszprém - Dávid Kálóczi, Gergely Szabó, Csaba Tamás and László Zana - won the gold medal in the most prestigious "Judges Favorite" category in the international team of hundreds of teams
The hackathon's innovations and the technological details of the winning project are presented by team members at Startup Safari Budapest and Veszprém Technology Meetup events

A team of One Identity (formerly Balabit) development programmers have been honored for their quick-turn programming skills at the Angular Attack International Programming Competition.
Over the last three years, members of One identity's Veszprém, Hungary-based development team have won top awards at the prestigious international competition. With programming and problem-solving skills hones by years of adapting privileged access management (PAM) software to the rapidly changing threats faced by One Identity's partners and end-user customers, this winning team of Dávid Kálóczi, Gergely Szabó, Csaba Tamás and László Zana, have taken their professional talents and used them for fun – and won.
The team's recognition over the last three years at the programming competition include:
2019: Song Hero app winner of the Judges Favorite category. In the interactive music game based on Guitar Hero, players score points for the Disco Races movie by head banging their way to victory
2018: Bubble Beat DJ app winner in Hacker Favorite category
2016: Balatone Waves Sound Player special relaxation application was the first app by the One Identity/Balabit team to win the Judges Favorite award
What is Angular Attack?
Angular Attack tournaments around the world consist of teams of 1-4 people who have 48 hours to develop an application from scratch that are then judged in five categories:
Judges Favorite
Hacker Favorite
Innovation
Design
Popularity
The winners of the first four categories are selected by a jury of experts, including representatives from Google, eBay, Frontend Masters and Telerik. Among the categories, the Judges Favorite is considered the highest honor. And the Popularity category is selected by public vote.
Veszprém Victories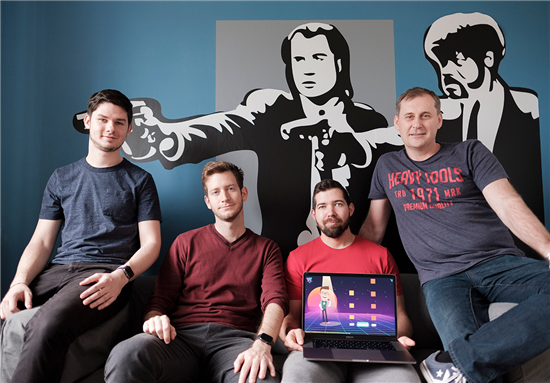 One Identity acquired Balabit in January 2018, including offices in Budapest and Veszprém, which today form the largest development base for One Identity. Angular is a development package use to create user-friendly and secure frontends for the company's complex identity and access management (IAM) solutions, including One Identity Safeguard for Privileged Sessions and Safeguard for Privileged Passwords. The Hungary-based One Identity dev teams have long used Angular to make efficient and elegant user interfaces.
The entire dev team is participates in local technology communities and enjoy sharing their knowledge and experience with interested people. If you'd like to see their award-winning side-gigs from the Angular Attack events, you can see them:
On 18 April 2019, Startup Safari Budapest, László Zana will give a lecture on the importance of hackathon projects, their impact on product, team cohesion and professional development. This talk will highlight how a hackathon project induces innovation and positively impacts productivity.
On 24 April 2019, this year's award-winning "Song Hero" application will be presented at Veszprém Technology Meetup, which is a free monthly event at One Identity. You can also talk to the developers about the technology and the details of the competition with the pizzeria experience report.
To see what else the local team are up to or to link to open positions at One Identity, visit One Identity Balabit HUB Facebook page.
More information can be found on Veszprém's Technology Meetup Facebook page.