In our last post, Kristóf Bajnok and Anna Németh-Szabó explained why it's good to work for One Identity by Quest. Now, three additional One Identity employees discuss why they also enjoy working in the Hungarian offices of One Identity. Read on to learn what Barbara Nemecskó-Gódor and Peter Czanik had to say about their experiences with the company. Then, watch a video interview with Andras Pinter who works in our development center in Veszprém, to get his take.
Barbara Nemecskó-Gódor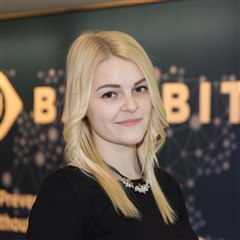 I started in September, 2017, at Balabit back then, as an HR coordinator. Then came the acquisition in 2018 and, from a Hungarian startup, we became a big multinational corporation. The whole company went through an enormous transformation and thanks to an opening, I was transferred from HR to payroll. The next thing I knew, I had a boss sitting in Seattle and a huge multinational team since most of my colleagues live in Panama and the U.S., but there are a few from Asia as well.
I really love that I can explore more than just my own field. Currently, the Irish, Russian, Serbian, Swiss and Czech payroll accounting is my responsibility. But I have already had a few glimpses into the peculiarities of Germany, Sweden, Hungary, Slovakia and many other countries. I believe that the greatest benefit is that although we work for a multinational company, the homey, heart-to-heart feel has stayed with us: everybody knows everybody, and there is always a good atmosphere in the office.
Does this positive atmosphere extend to your work relationship with your boss?
Oh, absolutely! She always asks me how I am, to which we both answer, "Fine, thanks!" And the usual, "What's the weather like?" can also be heard. We always have some heart-to-hearts too, so the interest is not just for show. This makes you really want to open up and that creates a good relationship between us. I got married in June, and my colleagues surprised me with a wedding gift to which my boss also contributed. She is really supportive and helpful, and even though, in some respects, there are massive differences between Hungarian and American mentalities, we could create a superb working relationship, and we can work together really well.
How did you see Balabit's community going through the acquisition?
This was a massive change in all our lives. Some of us experienced it as something negative. The transition itself proved difficult, but those of us who have stayed really enjoy being in this situation where, like Russian dolls, we are both part of a large corporation and a small enterprise. We have all the advantages of multiculturalism: not only can we progress our careers, but we can also practice English while being members of a cozy, local community.
Are there any improvements you'd like to see?
Of course. Big multinational corporations also have a flipside. We used to be housed in the same building with the CEO, and his door was always open. Now, we are part of a rather large and complex organizational structure, so sometimes an idea or initiative has to go through a pretty long approval process. The preplanned strategies and budgets are much less flexible than prior to the acquisition, but I think that just comes naturally for a company of this size.
Speaking of flexibility, how typical is this in other departments at One Identity?
In payroll, there is really no room for flexibility since we must be compliant with all the local regulations. But regarding the changes in Hungarian offices, they always listen to local leadership, ask for their opinions and make decisions based on that. Because of the pandemic, our offices have been closed for months, and some of them are still so. In July, our Budapest and Veszprém offices, with a lot of precaution and a limited headcount, could open; management was very cautious about this. Nevertheless, they still considered what was in the best interest of employees. Anyone who would like to can work from the office, which has just been supplied with new furniture, so that we have a more comfortable working environment. But every circumstance is given to us to work from home, too.
Péter Czanik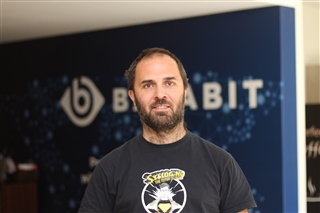 As an open-source evangelist, I somewhat feel like the odd one out at One Identity. Where I belong often changes from an organizational perspective; practically, I belong everywhere a little. I could try my hand in many positions and I am lucky to say that I felt comfortable in each and every one. Part of the reason for this is that I can deal with exciting tasks that have concrete outcomes. I am not just a little cog in the machine: I can see what the input is and what our output will be. I would also highlight that every team has a very welcoming and family-like atmosphere. What is also important for me is that I can work on open-source software.
How do you convey these values to your colleagues?
I have always had a positive mindset and, as much as possible, I am trying to convey this way of thinking. At the same time, I am convinced that there is no need to vigorously communicate these positive values since everybody sees them, as this is what we live in. Of course, due to the structural changes, there is some discontent, but most of us see that, if we look at the big picture, our situation is positive. While we were a small company, decision-making was much more transparent; now it is a bit more complex. Anyway, everybody sees that local management is trying to handle and communicate the decisions well while at the same time trying to soften the impact of external factors.
What do you think could welcome improvement?
In the Balabit era, there was direct communication with the CEO and the CTO; now there are many layers above us. Basically, decisions are made in America, very far from us. I think it would be useful if we could learn about the plans before we are faced with their outcomes. Luckily, we can now know about the background of the decisions at least; the communication of decision-making is improving.
András Pintér
Andras Pinter, who works in development, says his One Identity work environment is amazing and interesting. Watch his video interview in which Andras discusses why he enjoys his role, his thoughts on management and more.
Employees agree: it's good to work for One Identity
From payroll to development, employees across all departments enjoy working for One Identity. The warm, supportive atmosphere makes employees feel at home and respected by their colleagues and leaders. One Identity is a leader in the tech industry, not just as a provider of identity and access management solutions, but also as an IT company that cares about its employees, providing them with a respectful and comfortable work environment. If you're interested in joining the One Identity team, explore our careers page today.
Haven't read the first interview? Click here and learn more about Anna Németh-Szabó and Kristóf Bajnok's perspectives.