When it comes to boosting your customers' cybersecurity, Gartner believes a great place to start is restricting privileged access within their Active Directory environments. They need a solid Privileged Access Management solution to accomplish this. How can you choose a solution to recommend to them that you feel confident putting your name behind?
One Identity is thrilled to announce that, for the first time, we have been named Leader in the 2021 edition of the Gartner Magic Quadrant for Privileged Access Management for our Safeguard solution. Gartner's report reviews the current threat landscape and provides a detailed analysis of the most relevant Privileged Access Management solution vendors. Solutions are compared on two scales:
Ability to execute
Completeness of vision.
Organizations, like ours, that are placed high on both scales are named Leaders.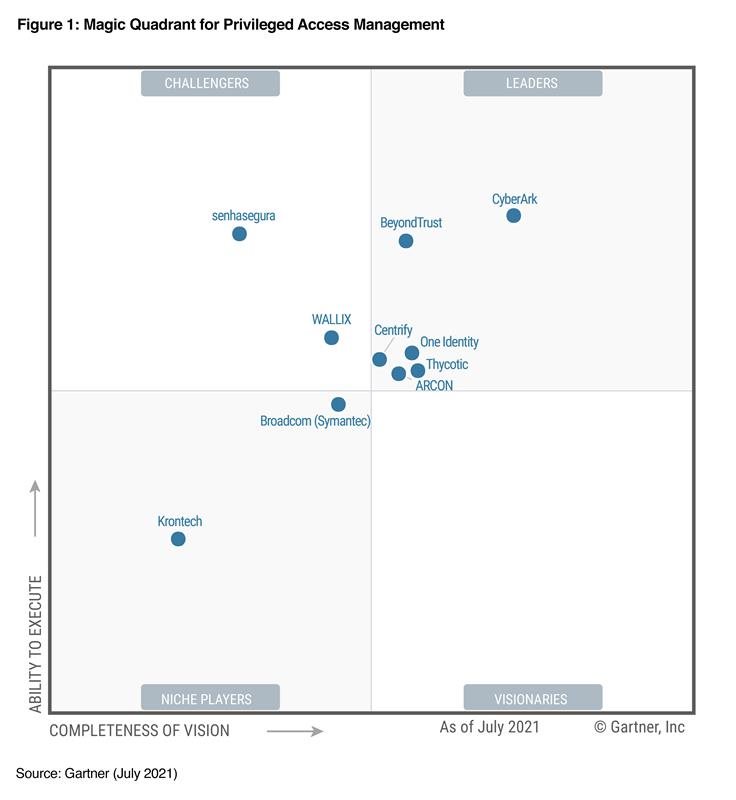 Why should this matter to you? As Gartner says: "Privileged access management is one of the most critical security controls, particularly in today's increasingly complex IT environment. Security and risk management leaders must use PAM tools in a long-term strategy for comprehensive risk mitigation." So, we can aid you in helping your clients achieve their cybersecurity goals.
With 70% of breaches being linked to privileged abuse, organizations need a streamlined approach to protecting identities and privileged access. As recent high-profile breaches have demonstrated, businesses need a solution that can help defend their data in today's threat-filled environment. At One Identity, we believe in providing simple and user-friendly, yet powerful, solutions that protect privileged accounts without hindering productive work. Our approach focuses on combining ease of use with advanced technology, such as machine learning and biometrics – an approach we believe is validated by being recognized as a Leader in 2021 Gartner Magic Quadrant for Privileged Access Management.