Hello all,
I have a question regarding QC mapping to a custom Z table in SAP. Currently I am trying to "uniquely" map to 7 key fields, but am getting the following error: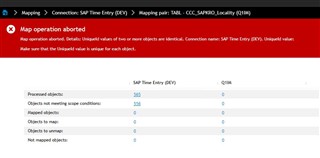 In this case, I am filtering to one specific location (e.g. MONTREAL - 9 objects). The 7 mapping pairs are noted below: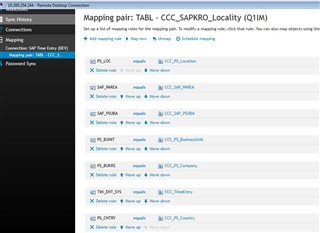 When viewing the data, it looks like there is a default mapping to an empty "Id" field (hence the error that UniqueId value: is blank and identical).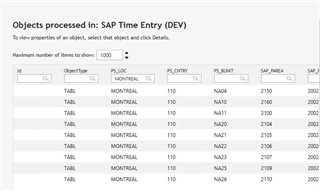 The XML section (which I have referenced from https://www.quest.com/community/products/one-identity/f/identity-manager/6528/how-to-use-rfc_read_table-bapi-function-in-quick-connect-for-sap-2-2 -Thank you kindly Hector!) noted below...
My question: How can I set the 7 columns noted above as the unique key fields for this mapping?
Thanks in advance for any guidance!!!!!!!!!
<sapMetaData>
<sapTypes>
<sapType name="TABL">

<operations>
<operation name="Get" enumerator="GetOrgUnits">
<attributes>
<attribute name="MANDT" displayName="Client">
<attributeBinding bindingType="outerParameter" sourceCall="GetOrgUnits2" bindTo="OrgUnit_Token1"/>
</attribute>
<attribute name="PS_CNTRY" displayName="PS - Country">
<attributeBinding bindingType="outerParameter" sourceCall="GetOrgUnits2" bindTo="OrgUnit_Token0"/>
</attribute>
<attribute name="PS_BUKRS" displayName="PS - Company">
<attributeBinding bindingType="outerParameter" sourceCall="GetOrgUnits2" bindTo="OrgUnit_Token2"/>
</attribute>
<attribute name="PS_BUNIT" displayName="PS - Business Unit">
<attributeBinding bindingType="outerParameter" sourceCall="GetOrgUnits2" bindTo="OrgUnit_Token3"/>
</attribute>
<attribute name="PS_LOC" displayName="PS - Location">
<attributeBinding bindingType="outerParameter" sourceCall="GetOrgUnits2" bindTo="OrgUnit_Token4"/>
</attribute>
<attribute name="SAP_PAREA" displayName="Personnel Area">
<attributeBinding bindingType="outerParameter" sourceCall="GetOrgUnits2" bindTo="OrgUnit_Token5"/>
</attribute>
<attribute name="SAP_PSUBA" displayName="Personnel Subarea">
<attributeBinding bindingType="outerParameter" sourceCall="GetOrgUnits2" bindTo="OrgUnit_Token6"/>
</attribute>
<attribute name="TIM_ENT_SYS" displayName="Time Entry System">
<attributeBinding bindingType="outerParameter" sourceCall="GetOrgUnits2" bindTo="OrgUnit_Token7"/>
</attribute>
<attribute name="SAP_PAREA_TXT" displayName="Personnel Area Text">
<attributeBinding bindingType="outerParameter" sourceCall="GetOrgUnits2" bindTo="OrgUnit_Token8"/>
</attribute>
<attribute name="SAP_PSUBA_TXT" displayName="Personnel Subarea Text">
<attributeBinding bindingType="outerParameter" sourceCall="GetOrgUnits2" bindTo="OrgUnit_Token9"/>
</attribute>
<attribute name="SAP_PID" displayName="SAP PID">
<attributeBinding bindingType="outerParameter" sourceCall="GetOrgUnits2" bindTo="OrgUnit_Token10"/>
</attribute>
<attribute name="SAP_VAL_NONPR" displayName="SAP Value (Non-Project)">
<attributeBinding bindingType="outerParameter" sourceCall="GetOrgUnits2" bindTo="OrgUnit_Token11"/>
</attribute>
<attribute name="SAP_VAL_PROJ" displayName="SAP Value (Project)">
<attributeBinding bindingType="outerParameter" sourceCall="GetOrgUnits2" bindTo="OrgUnit_Token12"/>
</attribute>
<attribute name="KRO_ACT_TYPRC" displayName="Kronos Activity Type RC">
<attributeBinding bindingType="outerParameter" sourceCall="GetOrgUnits2" bindTo="OrgUnit_Token13"/>
</attribute>
<attribute name="KRO_PAY_TYPRC" displayName="Kronos Pay Type RC">
<attributeBinding bindingType="outerParameter" sourceCall="GetOrgUnits2" bindTo="OrgUnit_Token14"/>
</attribute>
</attributes>
<calls>
<call name="GetOrgUnits" callType="complex">
<inputParameters>
<inputParameter name="dummy">
<parameterBinding bindingType="value" bindTo="dummy"/>
</inputParameter>
</inputParameters>
<outputParameters>
<outputParameter name="OrgUnits">
<parameterBinding bindingType="outerParameter" sourceCall="GetOrgUnit_DATA" bindTo="DATA"/>
</outputParameter>
</outputParameters>

<calls>
<call name="GetOrgUnit_DATA" nativeName="RFC_READ_TABLE" callType="bapi">
<inputParameters>
<inputParameter name="QUERY_TABLE">
<parameterBinding bindingType="value" bindTo="ZHCM_HR14"/>
</inputParameter>
<inputParameter name="DELIMITER">
<parameterBinding bindingType="value" bindTo=";"/>
</inputParameter>
<inputParameter name="NO_DATA">
<parameterBinding bindingType="value" bindTo=""/>
</inputParameter>
<inputParameter name="ROWSKIPS">
<parameterBinding bindingType="value" bindTo="0"/>
</inputParameter>
<inputParameter name="ROWCOUNT">
<parameterBinding bindingType="value" bindTo="0"/>
</inputParameter>
<inputParameter name="OPTIONS" type="table">
</inputParameter>
<inputParameter name="FIELDS" type="table">
<parameterBinding field="FIELDNAME" bindingType="value" bindTo="MANDT"/>
<parameterBinding field="FIELDNAME" bindingType="value" bindTo="PS_CNTRY"/>
<parameterBinding field="FIELDNAME" bindingType="value" bindTo="PS_BUKRS"/>
<parameterBinding field="FIELDNAME" bindingType="value" bindTo="PS_BUNIT"/>
<parameterBinding field="FIELDNAME" bindingType="value" bindTo="PS_LOC"/>
<parameterBinding field="FIELDNAME" bindingType="value" bindTo="SAP_PAREA"/>
<parameterBinding field="FIELDNAME" bindingType="value" bindTo="SAP_PSUBA"/>
<parameterBinding field="FIELDNAME" bindingType="value" bindTo="TIM_ENT_SYS"/>
<parameterBinding field="FIELDNAME" bindingType="value" bindTo="SAP_PAREA_TXT"/>
<parameterBinding field="FIELDNAME" bindingType="value" bindTo="SAP_PSUBA_TXT"/>
<parameterBinding field="FIELDNAME" bindingType="value" bindTo="SAP_PID"/>
<parameterBinding field="FIELDNAME" bindingType="value" bindTo="SAP_VAL_NONPR"/>
<parameterBinding field="FIELDNAME" bindingType="value" bindTo="SAP_VAL_PROJ"/>
<parameterBinding field="FIELDNAME" bindingType="value" bindTo="KRO_ACT_TYPRC"/>
<parameterBinding field="FIELDNAME" bindingType="value" bindTo="KRO_PAY_TYPRC"/>
</inputParameter>
</inputParameters>
<outputParameters>
<outputParameter name="DATA" type="table">
</outputParameter>
</outputParameters>
</call>
</calls>
</call>
<call name="GetOrgUnits2" callType="complex">
<inputParameters>
<inputParameter name="Input">
<parameterBinding bindingType="outerParameter" sourceCall="GetOrgUnits" bindTo="OrgUnits.WA"/>
</inputParameter>
</inputParameters>
<outputParameters>
<outputParameter name="OrgUnit_Token0">
<parameterBinding bindingType="outerParameter" sourceCall="GetOrgUnits" bindTo="OrgUnits.WA"/>
<dataHelper helperType="parseStringResult" delimeter=";" position="14"/>
</outputParameter>
<outputParameter name="OrgUnit_Token1">
<parameterBinding bindingType="outerParameter" sourceCall="GetOrgUnits" bindTo="OrgUnits.WA"/>
<dataHelper helperType="parseStringResult" delimeter=";" position="13"/>
</outputParameter>
<outputParameter name="OrgUnit_Token2">
<parameterBinding bindingType="outerParameter" sourceCall="GetOrgUnits" bindTo="OrgUnits.WA"/>
<dataHelper helperType="parseStringResult" delimeter=";" position="12"/>
</outputParameter>
<outputParameter name="OrgUnit_Token3">
<parameterBinding bindingType="outerParameter" sourceCall="GetOrgUnits" bindTo="OrgUnits.WA"/>
<dataHelper helperType="parseStringResult" delimeter=";" position="11"/>
</outputParameter>
<outputParameter name="OrgUnit_Token4">
<parameterBinding bindingType="outerParameter" sourceCall="GetOrgUnits" bindTo="OrgUnits.WA"/>
<dataHelper helperType="parseStringResult" delimeter=";" position="10"/>
</outputParameter>
<outputParameter name="OrgUnit_Token5">
<parameterBinding bindingType="outerParameter" sourceCall="GetOrgUnits" bindTo="OrgUnits.WA"/>
<dataHelper helperType="parseStringResult" delimeter=";" position="9"/>
</outputParameter>
<outputParameter name="OrgUnit_Token6">
<parameterBinding bindingType="outerParameter" sourceCall="GetOrgUnits" bindTo="OrgUnits.WA"/>
<dataHelper helperType="parseStringResult" delimeter=";" position="8"/>
</outputParameter>
<outputParameter name="OrgUnit_Token7">
<parameterBinding bindingType="outerParameter" sourceCall="GetOrgUnits" bindTo="OrgUnits.WA"/>
<dataHelper helperType="parseStringResult" delimeter=";" position="7"/>
</outputParameter>
<outputParameter name="OrgUnit_Token8">
<parameterBinding bindingType="outerParameter" sourceCall="GetOrgUnits" bindTo="OrgUnits.WA"/>
<dataHelper helperType="parseStringResult" delimeter=";" position="6"/>
</outputParameter>
<outputParameter name="OrgUnit_Token9">
<parameterBinding bindingType="outerParameter" sourceCall="GetOrgUnits" bindTo="OrgUnits.WA"/>
<dataHelper helperType="parseStringResult" delimeter=";" position="5"/>
</outputParameter>
<outputParameter name="OrgUnit_Token10">
<parameterBinding bindingType="outerParameter" sourceCall="GetOrgUnits" bindTo="OrgUnits.WA"/>
<dataHelper helperType="parseStringResult" delimeter=";" position="4"/>
</outputParameter>
<outputParameter name="OrgUnit_Token11">
<parameterBinding bindingType="outerParameter" sourceCall="GetOrgUnits" bindTo="OrgUnits.WA"/>
<dataHelper helperType="parseStringResult" delimeter=";" position="3"/>
</outputParameter>
<outputParameter name="OrgUnit_Token12">
<parameterBinding bindingType="outerParameter" sourceCall="GetOrgUnits" bindTo="OrgUnits.WA"/>
<dataHelper helperType="parseStringResult" delimeter=";" position="2"/>
</outputParameter>
<outputParameter name="OrgUnit_Token13">
<parameterBinding bindingType="outerParameter" sourceCall="GetOrgUnits" bindTo="OrgUnits.WA"/>
<dataHelper helperType="parseStringResult" delimeter=";" position="1"/>
</outputParameter>
<outputParameter name="OrgUnit_Token14">
<parameterBinding bindingType="outerParameter" sourceCall="GetOrgUnits" bindTo="OrgUnits.WA"/>
<dataHelper helperType="parseStringResult" delimeter=";" position="0"/>
</outputParameter>
</outputParameters>
</call>
</calls>
</operation>
</operations>