We are now offering a new Accreditation - Identity & Access Management (OneLogin)
There are 2 elements to an accreditation - Sales & Pre-Sales
Together, the accreditation achievements alongside other criteria contribute to the tiering status and an entry on the partner locator.
We know that our customers look to the locator to align to a suitable partner - so there is real value in undertaking the accreditation
PLUS
You will increase your knowledge & understanding of this proposition.

Within the Sales Accreditation you will follow a series of video presentations and resource links outlining the core features and value proposition of the Identity & Access Management (OneLogin) solution stack.
Overview of OneLogin Platform and Key Business Outcomes

Sales Tools

Leveraging our Partner Program and Marketing Services

Helpful Resources

Assessment
The final assessment step allows you to confirm you have followed through the steps and understood the key messaging.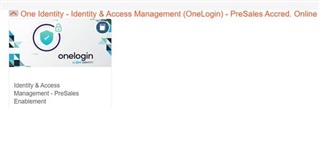 Within the Pre-Sales Accreditation, comprehensive content includes:
OneLogin Platform Overview

Popular use cases

Multi-factor Authentication (MFA)

MFA-App - Protect

SmartFactor Authentication

Smart Hooks

Trusted IdP

OneLogin Desktop

Access with Oracle EBS

Remote Desktop Gateway (RDG)

OneLogin Sandbox

Assessment
The final Assessment confirms your learning and adds the Pre-Sales achievement to your partner profile.
Access this link after logging into the Partner portal to get access to this accreditation.
More details can be located about our Identity & Access Management (OneLogin) proposition here