One of the highlights of the One Identity EMEA UNITE Partner Conference in Malta was the Celebration Dinner and One Identity EMEA Partner Awards 2017. There were fourteen awards presented by Jim Lawless (a leading inspirational speaker & author of Taming Tigers) and Ian Sutherland (VP & GM Sales, One Identity, EMEA).
One of the primary awards was for EMEA Partner of the year
EMEA Partner of the Year 2017: Intragen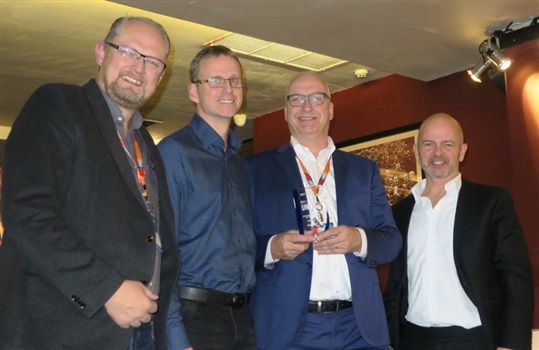 L – R : Ian Sutherland; Colin Miles; Boele Ter Wisch; Jim Lawless
Intragen have continued to go from strength to strength, having been founded in 2006 to specialize in Identity & Access Management, they have an outstanding track record in providing consultancy and advice to clients covering Identity Management; Access Governance; Privileged Access; Data Governance and Access Management. Now operating in Benelux; UK and Finland – and planning to expand in Norway and Sweden - they are able to capitalise on their geographic presence attracting mature IAM talent to an already well-established IAM practice. This year they have intensified their efforts and achieved a GOLD+ rating within the One Identity Partner Circle. Intragen are recognized for innovation, developing and leveraging their own IP in concert with One Identity Manager to reduce the risk and cost of deployment leading to many reference clients. Congratulations to all the Intragen team members – your efforts to grow alongside us are very much appreciated.
EMEA Best New Partner 2017: Centerprise International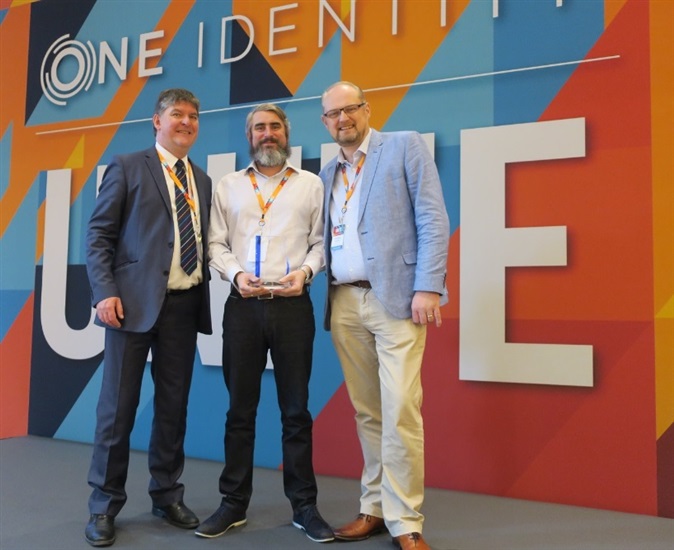 L-R : Andrew Clarke; Darren Smith; Ian Sutherland
Centerprise International was founded over 3 decades ago in order to provide customised choices at a time when IT products were constrained. Driven by a high level of technical expertise, they have achieved success in understanding detailed requirements and meeting their clients expectations. With an impressive portfolio of private and public sector clients, they have seen success with One Identity this year in being instrumental in closing and delivering a seven figure deal to Goldsmiths, University of London, UK with a broad set of One Identity portfolio including, One Identity Manager and Data Governance Edition, Cloud Access Manager; Privileged Management; Defender 2FA and Password Management. As a Platinum partner, a truly remarkable win that sets the bar high for their future success with One Identity.
EMEA Best Solution Sale 2017 : Devoteam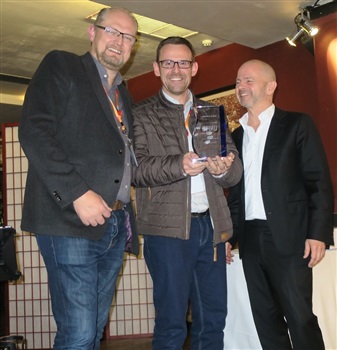 L-R : Ian Sutherland; Michael Bischof; Jim Lawless
This is no doubt that the exceptional commitment demonstrated by Devoteam in Germany this year in working with One Identity has led to their success in influencing a seven figure sale of One Identity solutions into a leading global technology group in driveline and chassis technology as well as active and passive safety technology. In the creation of a new company following an acquisition the company sought a solution to consolidate and modernize their IdM for the new company while replacing their own legacy systems (DirX) and the acquired company (NetIQ). Devoteam positioned One Identity very successfully and through their detailed expertise of One Identity showed a constant attention to the customers need and advising around the business challenges and processes. One Identity Manager met all the requirements and provided a flexibility in handling SAP requirements. As a group, Devoteam deliver innovative technology consulting for business through a network of 5,000 professionals who are dedicated to ensure clients win their digital battles. With a presence in 17 countries in Europe and the Middle East and with 20 years of experience, they improve business performance making their companies truly digital and leading to delivery of cloud-based solutions. A well deserved win – which sets a great foundation for future growth with One Identity as our IAM portfolio matches their strategic growth.
One Identity Innovation Award 2017 : Cyberinc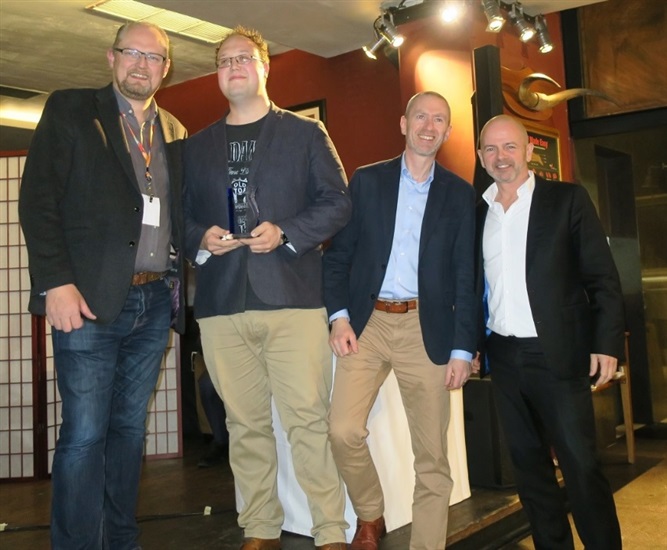 L- R : Ian Sutherland; Chris Patrick; Mike Nelsey; Jim Lawless
With the launch of its IAMobileTM Application for Identity Manager, CyberInc have illustrated their ongoing commitment to become a leader with One Identity solutions and also provide meaningful innovative solutions for the benefit of global customer that will help in addressing the enterprise mobility requirement.
IAMobile will help expand Identity Manager's IT shop functionality of simplifying the process of managing user identities, access permissions and security policies, by providing a powerful and fully integrated mobile application with an unique user experience. This mobile application will enable users to govern their access, manage their approval tasks, attestation events and place product requests, anytime and anywhere from their respective mobile devices.
This App will streamline the routine requests and approvals process between users and the respective managers. The seamless connectivity and access ensured by this intuitive App will help in reducing risks associated with delayed access, and preventing security compromises through credential sharing between users.
A truly outstanding approach that deserves this special award from One Identity.
One Identity Long-term Partnership 2017 : Starlink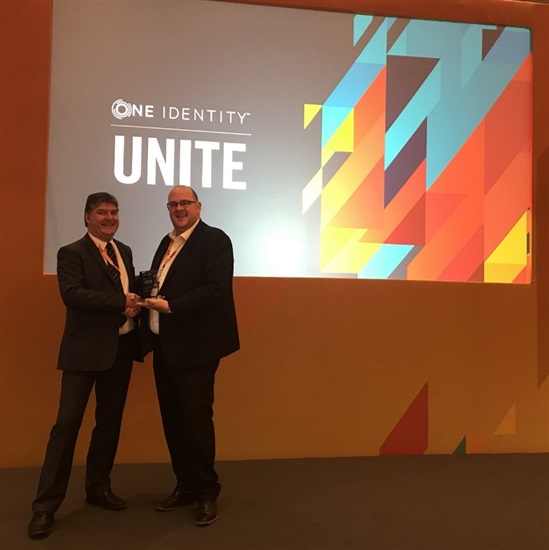 L – R: Andrew Clarke; Iain Arnott
StarLink is acclaimed as the fastest growing "True" Value-added Distributor across the Middle East, Turkey and Africa regions with on-the-ground presence in 11 countries. With its innovate Security Framework, StarLink is also recognized and respected as a "Trusted Security Advisor" to over 2200 enterprise and government customers that use one or more of StarLink's best-of-breed and market-leading technologies, sold through its Channel network of over 1000 Partners. The StarLink Solution Lifecycle helps Channel Partners differentiate offerings, and assists customers to identify key risks and define priorities for addressing IT Security gaps relating to compliance and next-generation threat protection.
Partnering with One Identity for IAM solutions over the past 10 years, Starlink has demonstrated commitment and understanding to really making IAM work alongside their partners and customers. A truly well deserved award and a reflection of their regional leadership in the middle-east.
One Identity Customer Success Story 2017 : Exceed IT Services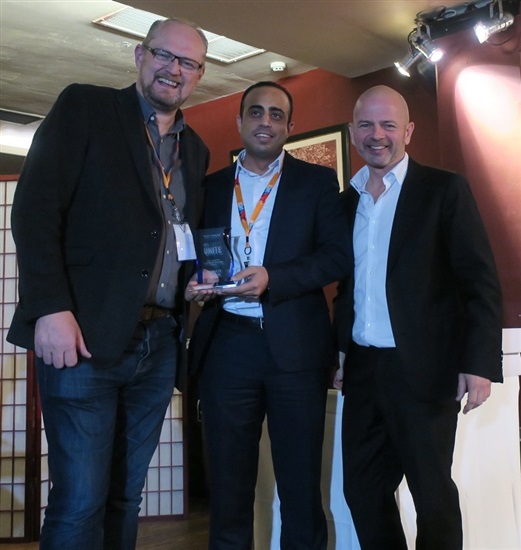 L - R : Ian Sutherland; Romany Gamel; Jim Lawless
Exceed IT Services have progressively built a strong IAM with One Identity practice serving the middle-east region and driving some key customer successes.
One such success is the Qatari-based cultural organization Katara
It show cases their growing strength in developing markets; and it highlights the work of our partner Exceed IT, who took a step-by-step approach ensuring not only a successful deployment, but success for the customer's business needs; and finally there's the synergy of our solutions making the customer's life so much better while contributing to the evolution of that company.
Katara had a multiple sign-on platform across distinct and disparate systems, making it hard for users to access the organisation's many applications.
With Identity Manager, Password Manager, and Cloud Access Manager, Katara has reduced the number of sign-in credentials for staff from seven to one and slashed password-related help-desk queries from 600 a year to less than 40.
Using Identity Manager, the entire workflow is automated and secure
An excellent example of customer success led by Exceed IT Services.
Look out soon for a One Identity video case study about the Abu Dhabi University – they were faced with the challenge of students and staff members at the university facing delays gaining access to the applications they required, and with the IT team having no tools for access reporting to satisfy auditors they decided to use One Identity solutions to automate access management, giving new students and staff access to applications fast and helping to cut help-desk enquiries by 95 percent.
EMEA Regional Award Winners
Regional Partner of the Year 2017 (Nordics) : Tieto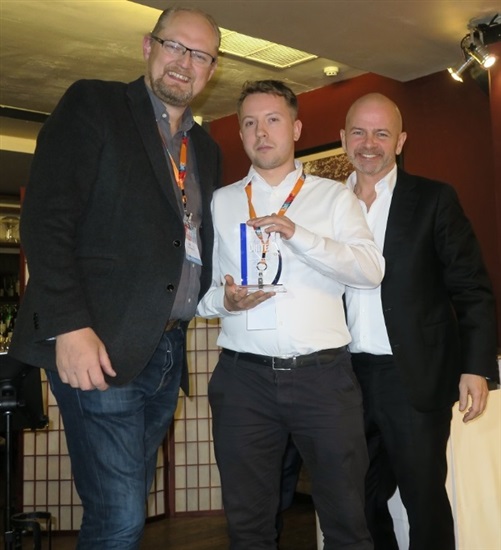 L-R: Ian Sutherland; Lukasz Berezowski; Jim Lawless
Tieto continues to increase its success with One Identity solutions. Building on a strong Nordic heritage, Tieto combines global capabilities with local presence. Headquartered in Espoo, Finland, Tieto has around 14,000 experts in close to 20 countries and turnover is approximately €1.5 billion. Aiming to become the customers' first choice for business renewal as the leading Nordic software and services company. In a rapidly changing world, every bit of information can be used to provide new value. Tieto aims to capture the significant opportunities of the data-driven world and turn them into lifelong value for people, business and society. Having a strong role in the ecosystems, Tieto use their software and services capabilities to create tools and services that simplify everyday life of millions of people; to help customers renew their businesses by capturing the opportunities of modernization, digitalization and innovation and fostering new opportunities based on openness, co-innovation and ecosystems.
Always innovating, having built managed services with One Identity Manager and Data Governance Edition, Tieto is embracing the new One Identity Safeguard Privileged Access Management to extend their offerings across the Nordics – a well deserved win that recognises their stand-out performance and commitment to One Identity.
Regional Partner of the Year (Central) : ITdesign Software Projects & Consulting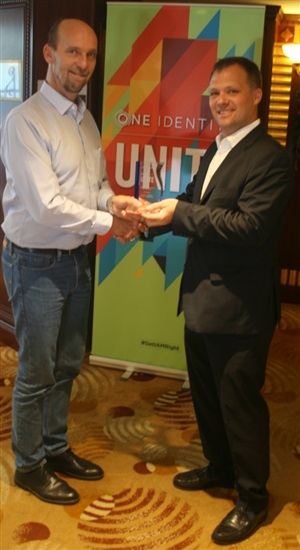 L-R : Michael Botek ;Jan Becher, Partner Manager, DACH, One Identity
ITdesign is an independent service provider within the Austrian IT market. Their ultimate goal is to provide the best quality advice in order to optimally ensure the profitability, future-proofing, availability and functionality of your IT landscape.
Based on the 5 pillars:
KEEP IT FLEXIBLE
MAKE IT BETTER
RELY ON IT
BE PART OF IT
GO FOR IT
They prove to be an ideal partner for One Identity: Highly competent with the solutions and a deep understanding of IT-infrastructure and current issues with their customers. Operating within the Austrian market they continually collaborate across the One Identity team with excellent feedback also into support organisation. ITdesign have been associated with One Identity for many years and have shown strong loyalty to the changing organisation and associated solutions. Great recognition for past commitment and having built a relationship that will take them forward to future success with One Identity.
Regional Partner of the Year (UK&I) : Cyberinc
L- R : Ian Sutherland; Mike Nelsey; Jim Lawless; Chris Patrick
CyberInc have invested internally in skilling up consultants, developing IP in the form of IAMobile (winning them the One Identity Innovation award - 2017) and delivered significant seven figure Identity Governance pipeline in 2017 as well as achieving a GOLD+ rating in the One Identity Partner Circle. The wider set of Cyberinc offerings include secure, scalable, high performance security products that protect from cyber-attacks, and services that help enterprises transition to next generation access management systems. Their experience stands out with comprehensive IAM solutions having secured over 120 million identities for world's leading corporations in the last 20 years. Alongside product such as the One Identity portfolio, their services enables clients to effectively address their toughest cyber security challenges
Regional Partner of the Year (Middle-east) : Exceed IT Services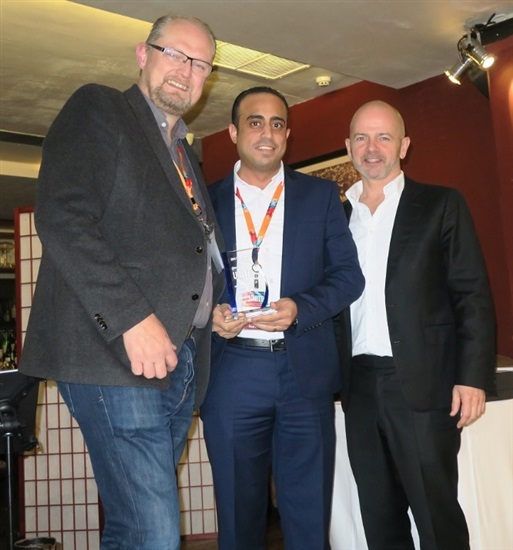 L- R : Ian Sutherland; Romany Gamal ; Jim Lawless
Exceed IT Services are a very experienced team, led by Romany Gamal, who has over 10 years experience in building enterprise software systems for government, banking, oil and gas, telecom and enterprise businesses. The specific hands-on experience covers solution development, design, architecture, and implementation of projects that has proven very effective in building a strong IAM practice with One Identity. Their professional and consultative approach serves the needs of complex IAM problems very well and in 2017 they have successfully deployed the One Identity Manager solution in many clients. In addition they have been awarded the One Identity Customer Success Award 2017. A fantastic partner to work with and always keen to make the most of the technology to help their customers. Exceed IT Services are a great example of a successful partner relationship and well deserved recognition as middle-east partner of the year for 2017.
Regional Partner of the Year (Iberia) : Omega Peripherals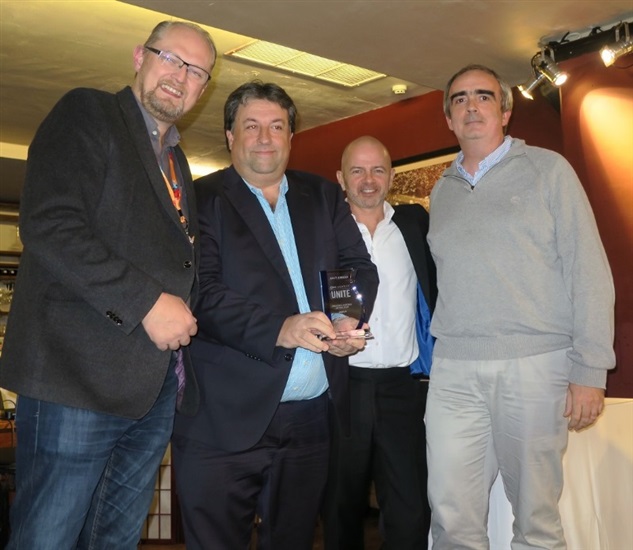 L- R : Ian Sutherland; Oscar Gonzalez; Jim Lawless; Amado Corominas
Operating across Spain, Omega Peripherals, a IT Systems integrator company has built a strong practice around One Identity solutions. The team at Omega, started with a good understanding of IAM solutions, and built out a sales and pre-sales capability to embrace the One Identity portfolio. They are able to design solutions for their clients across Spain with a strong emphasis in Madrid, Bilbao, Seville & Catalonia and they make them a reality. Expertise across many vertical sectors and security know-how that covers Identity & Access Governance; Security Audits and Applications Security coupled with experience in providing managed services. Building meaningful marketing programs, they are able to leverage their wide market presence to ensure that their customers get IAM right. A very deserving win which shows the progress made in 2017.
Regional Partner of the Year (Benelux) : Intragen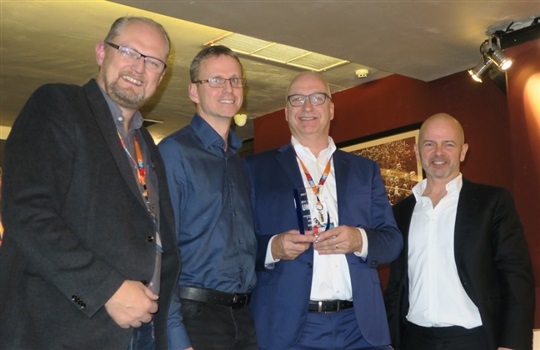 L – R : Ian Sutherland; Colin Miles; Boele Ter Wisch; Jim Lawless
In qualifying for EMEA Partner of the Year, Intragen Benelux region were stand-out and achieved the regional award as a result of that. Intragen have undertaken activities to keep themselves educated as well as bringing in new solutions to be the first ones to try them out. Intragen have enagements were they have undertaken migrations to later release versions of product and helped provide One Identity business support.
Some excellent case studies illustrate their successes to date.
Robert Gordon University : Wanted to face the challenges of modern identity governance and set themselves up to address changing IT landscape
Credit Europe Bank: Replacing the custom access governance system was crucial. Gaining complete oversight of who had access to which resources was required for good process control and adding attestation of access. Using their internal team, Credit Europe Bank was able to gain better access into their roles using the role and risk index functionality of One Identity and standardized and integrated processes across all branches.
More details on these two case studies : https://www.youtube.com/channel/UCOOfgwiHIp_pALYdEoycUnA
Regional Partner of the Year (France) : Metsys
L – R : Ian Sutherland; Guillaume Mathieu; Jim Lawless; Arnaud Durand
A digital services company, METSYS is positioning itself on the market as an integrator of infrastructure solutions with high added value. Partner of the largest publishers and manufacturers, METSYS advises its customers throughout their projects, from the design phase to the implementation phase or even support. The maintenance of the level of expertise is ensured both by a permanent training of employees, a regular renewal of their certifications, their active participation in programs of introduction to new technologies and our close links with Microsoft. Since its creation, METSYS has obtained the Microsoft Gold Partner accreditation, which provides deep expertise that aids in the implementation of One Identity solutions. They have a thorough understanding of One Identity solutions that serves the demands raised by key enterprise businesses across France.
Regional Partner of the Year (Emerging Markets) : CROC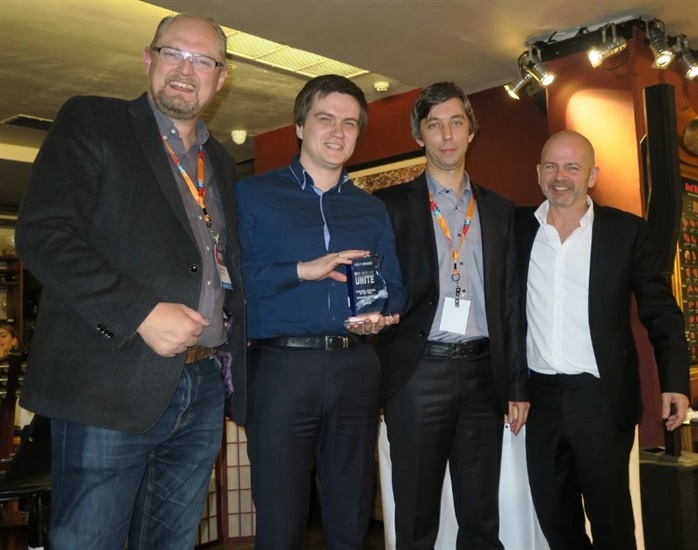 L – R : Ian Sutherland; Artem Feoktistov; Pavel Maslov; Jim Lawless
CROC has been working in the IT market since 1992 and is today one of the top 10 IT companies and the top three consulting businesses in Russia. CROC has strong competency in Identity and Access Management area. Their focused team of highly skilled professionals have achieved One Identity certification which has enabled them to achieve GOLD+ status in the One Identity Partner Circle in 2017. CROC have successfully completed more than 20 IdM projects over the last 10 years. The typical project includes review/reengineering of customer's identity management processes, solution development and then solution implementation in production with support throughout the customer lifecycle.