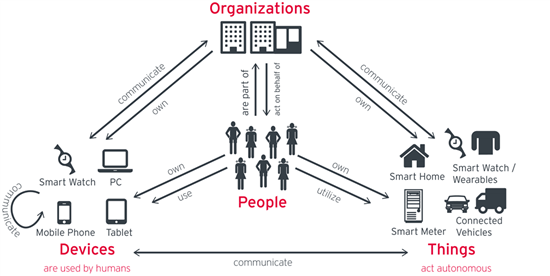 Digital Transformation adds billions of connected devices and things to what we already have in place. Therefore, we must learn to manage and thrive with the complex relationships of new organizations and their systems, devices, things and people
It is not only about users accessing a system anymore – it is about complex interactions and relationships between multitudes of devices. New trends, such as Identity Relationship Management (IRM) are looking at ways of handling the identities of all humans, services, devices, and things and their complex and ever-changing relationships.
IAM is changing rapidly. While the traditional focus was on employee access to internal systems, today identity management has to address a far more complex environment.
Over the past several years, we have seen a number of drastic changes triggered by cloud computing, mobile computing and social computing. Different deployment models and the management of access to cloud applications, authentication and secure information access of mobile users, and the ever-tighter integration of business partners and customers has had a massive impact on the way IAM is done. However, these changes are just the tip of the iceberg. Users accessing services through apps, access management for operational IT and IoT are three mega-trends that will further change the role of IAM. Traditional concepts of IAM that focus solely on internal IT are no longer sufficient. Of course, we still need some of these, but they represent a fraction of the future scope.