As we prepare for the One Identity UNITE EMEA Partner Conference on the beautiful island of Malta in southern Europe, we also celebrate One Identity's successful first year as an independent company. To demonstrate that success and how we are preparing for an even more successful future we have arranged an agenda packed with information from across our business. Plus, we have scheduled key stakeholders to speak about their areas of responsibility and more importantly for them to engage with you, our partner. The goal for this event is to provide an immersive environment with many opportunities for interaction – and for our partners to meet and talk with each other to learn about others' successes.
About Malta
Malta is a group of islands steeped with history. The Maltese archipelago has been at the crossroads of cultural exchange for millennia. Being colonized for several thousand years, has led to an incredible cultural and historical heritage accumulated through the ages. Founded in 1566, Valletta is Malta's capital city and is one of Europe's smallest (and southernmost) capital cities, with many buildings having a strong Baroque character. This scenic city is perched a peninsula between two natural harbours.
The Knights of St John of Jerusalem were given control over Malta in 1530 by Charles V of Spain and left their mark on the island until capitulating to Napoleon's advancement in 1798. The Knights of Malta are most remembered for successfully defending the island against the Ottomans during The Great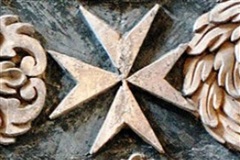 Siege of 1565. The eight-point Crusade cross often associated with the Knights of Malta later became known as the Maltese Cross.
In the 15th century, the eight points of the four arms represented the eight lands of origin: Auvergne, Provence, France, Aragon, Castille and Portugal, Italy, Germany and England (with Scotland and Ireland).
The eight points also symbolize the eight obligations or aspirations of the knights:
to live in truth
to have faith
to repent one's sins
to give proof of humility
to love justice
to be merciful
to be sincere and wholehearted
to endure persecution
As with the Knights, in business today it is so important to set our own obligations and aspirations (goals) and work together as a team and in partnership to achieve them.
One Identity President and General Manager - our very own St. John - John Milburn set the tone for the first year of One Identity with three key goals for the business.
A laser-focus on Customer Success – ultimately that is why we do the job we do – to sell our solutions; make them work in our customers and help them grow their own businesses as a result
Prepare the business to meet the requirements for Cloud & Digital Transformation
Enhance our Partner relationships and provide a focus across the business to increase partner success