In this interview we talked through with our colleague, A. Zsófia Bircher about her career journey @One Identity. How could she perform in the school and work together? How could she keep her work-life balance? We also talked about inspirations and role models which are vital elements of a career, and formed Zsófi's life as well.
When did you become interested in technology? What first got you interested in tech?
I used to be a bookworm at the beginning of high school. I've always had my own laptop, but I mostly just played Sims 2 on it. The plot twist in my life came in September 2012, when my IT teacher sent me a message on Facebook. She thought I was interested in IT during the lessons, and she wrote that I was good at it. She suggested early graduation in information technology after the second year of high school. I thought, "why not, but even so, I will never work in the IT sector." However, I've always wanted to see the future from the first row, and this career fitted into this plan… So long story short, I earned 94% on this exam, and a few years later, I graduated from the University of Pannonia as a Computer Science Engineer (BSc) in 2019, and I finished my MSc study in 2021 as a Computer Science Engineer on the Engineering and Healthcare Applications specialization. My teachers and my parents have been supporting me all the time. For my BSc thesis, I programmed a humanoid robot to talk about Disney princesses. Fortunately, my supervisor was open to my ideas, so I could make these crazy dreams come true while I learned a lot in the process. Parallel to my BSc studies, I started in the IT sector working at the age of 20. I got into a great community where I can still challenge myself and expand my knowledge. This direction turned out to be a good idea from several points of view. I met my fiancé on the first day of freshmen's week at the university, and our wedding was in May 2023. He is a Software Engineer as well, which is great because we can have long discussions at home about new technologies without boring each other.
How did you get to your current job? What different career paths have you taken?
I applied for a software developer trainee position in 2017 at my current company because I wanted to complete an 8-week summer internship for my university studies. I'm not the greatest with this 'life prediction thing', I have been at One Identity for 6 years now. There is a significant difference between learning study material at university and applying it in the industry. On my first workday, I was assigned a mentor who taught me about the company's product and our development environment etc. He was a huge help, although I was finishing my second year of university then, I had no idea what to do with a code base with thousands of lines. After obtaining my BSc degree, I became a Junior Software Developer. I was working on weekdays and attended the MSc classes on weekends. Balancing these two full-time for two years was exhausting but worth it. E.g., I could present my university project at the National Scientific Students' Associations Conference, and I could live my life as a university student, meanwhile I had my software developer job where I gained experience and earned money. For a brief period, I could merge my university studies and my work, my MSc thesis topic was given by my company. The idea came from one of my team members, and with it he won the external consultant role in the project, he helped a lot. The project became such a success that a few parts of it were even integrated into the company's product. A few months after completing my MSc studies, I was promoted to Software Developer.
What do you do there? What does your everyday work look like?
My work routine starts with an alarm clock followed by listening to the news on the radio and feeding my cats. Before the COVID-19 pandemic, I commuted to the office every day, fortunately the bus stations are near to the office and to the university, so I could commute between the two buildings when I was a young trainee. However, since 2020, I have been working from home, it's the best. I usually kickstart my workday with a cappuccino while checking emails and catching up on Teams channels, as it's an international company and something is always happening. My team holds stand-ups every second day, during which developers and managers discuss ongoing work-related topics. Additionally, we have weekly meetings with our product manager to discuss the future of the product and our team's short-term goals. As a team in this fully remote situation, we sometimes organize separate meetings for brainstorming solutions to specific problems. I also have a few fixed meetings, such as face-to-face meetings with my team leader. The daily schedule varies depending on the number of meetings.
My team is responsible for working on the backend of Safeguard for Privileged Sessions and we have a desktop application with front-end to develop and maintain as well. My daily work routine can't lack code or unit test writing. New feature development is a creative process, and it's beneficial to have talented developers on the other side of the chat window to bounce ideas off and discuss possible solutions. As soon as the users enter the system, they can spoil anything. Fortunately, we have a QA team that thoroughly overview most of the possible situations when something can go wrong. Maintaining and improving existing features are equally important as developing new ones. After completing a significant project, we usually gather in the office for an 'old-fashioned offline' code review with face-to-face interactions. Although it's enjoyable to meet in person occasionally, I still prefer working from my home office.
Are there people, particularly women, who have encouraged and supported you? Do you have a role model?
Next to my IT teacher, I had great math teachers during grammar school and high school, both of whom were women. They encouraged me to participate in math competitions. I also had great female professors during my university years. I should mention my mother as my biggest fan, no matter what I do. This question is funny because, in my IT specialty at the university, there were only two girls. When I started at the company at the age of 20, I was the first woman in the office in Veszprém, and I am still the only one. As mentioned earlier, I received a lot of support from my coworkers, so I believe gender doesn't matter in this case. I have role models, and I put their pictures on my desk when I started university. Countess Vilma Hugonnai was the first Hungarian female medical doctor, and her life has always inspired me. On the other picture was Hedy Lamarr, whose beauty as an actress served as a role model for a generation, and during that time, she also invented the basics of Bluetooth. Isn't it cool?
What do you like most about work, and what motivates you every day?
Every day can be a new challenge. This field is moving gradually towards a more advanced state, and we have to stay up-to-date with the new OS versions, program language versions, package versions, etc. IT has permeated every segment of life, and it feels good to be a part of this process. At work, I have the opportunity to work with different technologies. During my first week of work, I received a link to an e-book about a programming language I had never heard of before. It turns out that a few segments of our product are written in it, so I have to learn it. I had to write a small program with it, and my mentor checked it. That's when I realized that the IT sector is a never-ending story of learning, and that's the magic and adventure in it.
How has COVID-19 affected your work-life balance?
Since 2020, I have been working from home, which is the best. I can spare a lot of time without preparation and travel. This full remote lifestyle is less stressful because I don't have to catch the bus. We have the option to work from home, work in a hybrid mode, or work fully from the office. As I mentioned, I sometimes work from the office, and it's great that we have so many options. The beginning of the COVID-19 pandemic was hard, as my fiancé and I were locked in a flat with a cat. In the second month of the pandemic, we adopted our second cat. They are still our therapy furry pets, especially when a program error upsets us. It's hard to find the balance when your working tool is always next to you. During COVID-19, I was writing my second thesis, so I mostly just placed my private laptop next to my work laptop in the afternoon, or for the text part, I just switched the laptops in front of me, because change is beauty. It was a challenging time, as I had a lot of work to do, and I worried about my loved ones in other cities. However, we made it through, and I improved a lot during this time. I could keep the home office as a gratis, and this experience helped me a lot during the wedding organization as well.
What preconceived notions about women in tech have you come across? What issues result from them?
When I showed up on campus during fresher's week in my little floral dress, many people thought I was lost and that I was at the wrong table, even a few girls. The problem is not that I don't fit into the picture, but that there aren't enough of us IT girls yet. Another preconceived notion comes from the belief that men and women have different ways of thinking. Overcomplicating is not the same as someone approaching a problem differently and arriving at the solution. It is true that I had to learn to present my ideas in a short and precise form. In the beginning, I faced a cumulative disadvantage, especially as the first girl in the team. It was difficult for me, with zero experience, to make myself understood by people with many years of experience. However, this is a challenge that anyone, regardless of gender, can face. Another issue I encountered was the brutal honesty of the community, which was strange to me at first, but then I got used to it. Again, this issue is not gender dependent.
What was the best tip you've ever received during your career?
The best tip I've ever received is about problem-solving. It is crucial to fully understand the whole problem before starting to solve it, even if it takes days. This approach to problem-solving started in my early years, as I had 5 math lessons a week at school, and I always started my homework writing with math. Software development is like math, except without the solving formula. When there is a codebase written by others, it's essential to understand their logic first before implementing new features or fixing bugs. This system approach is essential for writing clean code, so it turned out to be a useful tip.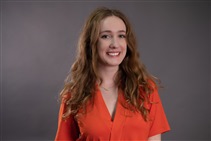 A. Zsófia Bircher
Zsofia is a Software Developer at One Identity Hungary. She holds a Bachelor's degree in Computer Science Engineering. Parallel to her full-time job, she completed her MSc studies in Computer Science Engineering with a specialization in Engineering and Healthcare Applications. Next to IT security, she is interested in robotics and the space industry as well. She has always wanted to see the future from the front row, and she found the key to fulfilling this dream in IT.
If you want to learn more about the career opportunities @One Identity, and even work with Zsófia, visit our career page.