As the journey to IAM Success continues, One Identity UNITE Nice (France) starts Day 3 with choice. As One Identity has a broad range of IAM solutions, multiple technology tracks offer insightful overviews of:
Identity Governance
Access Management
Privileged Access Management
IDaaS – One Identity Starling
This year, already we have had some very positive changes in the One Identity business, starting with the January announcement of the acquisition of Balabit, an innovative PAM and syslog vendor headquartered in Budapest, Hungary. This move enables One Identity to extend the One Identity IAM portfolio with Balabit's privileged account analytics log management capabilities. Following this, Gartner named One Identity a Leader in its February 2018 MQ for Identity Governance and Administration.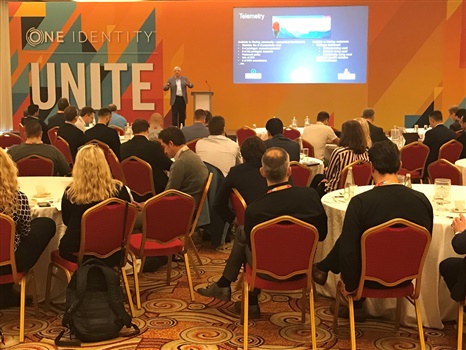 During the breakout sessions, One Identity partners and customers will have the opportunity to hear from product developers; product management and IAM specialists.
One example of these sessions is our outline of the One Identity Manager next generation with Privileged Account Governance Module and Application On-boarding. This is an end-to-end approach to governance that is built in from the start, which mean it not only includes user access but also access to data with new Privileged Account Governance Module. This module features attestations, risk calculations, access requests and reporting capabilities. Truly, innovation at its best. Plus, it delivers integrated IAM solutions that make a real difference to the efficiency and effectiveness of IAM deployments.
Innovation is happening at our partners too, Jannik Frisch and Christopher Schuetze from Devoteam Germany are delivering a very interesting session "The Cloud....yet another target system?". The outcome is subject to your own imagination!
In our privileged access management breakout tracks, Tyler Reese, One Identity product manager, leads the way with sessions that capitalise on the technology from Balabit "Reducing the risk of privileged users with privileged identity analytics" and then "What's next for One Identity Safeguard".
We are seeing tremendous growth in the privileged access management space, which is certainly – at least in part -- being driving by the pending GDPR regulations. Some of our partners have gained in-depth experience in this area. You will see this knowledge in action when Ian Yoxall from Intragen and Patrick Zwahlen from Navixia are joined on stage by Bill Evans, One Identity's marketing director, to have a lively and insightful panel discussion.
The Access Management breakout will be led by David Miles as he considers how to embrace Active Directory (AD) management to enhance enterprise IAM and then IAM challenges surrounding the hybrid-AD environment. In this session, David will highlight One Identity Active Roles and its automation, workflow and security capabilities for AD and AAD. Tim Eichmann from our UK partner, Core, illustrates how they built a business that is centered on these capabilities.
Then we'll focus on the "as a Service" arena and discuss One Identity initiatives that are driving innovation there. Jason Fehrenbach and Tim Sedlack outline these – specifically covering Starling Identity Analytics & Risk Intelligence. Recognising that detection is already too late – the team will demonstrate how this solution provides suitable prevention tools to protect an enterprise from the next cyber-attack.
For this part of the IAM journey – where we're going, we don't need roads. We often hear from customers that they are torn between their current on-prem investments and leveraging new cloud-based systems to move their company forward. With One Identity, you don't have to choose an either/or solution. This session shows how our differentiated hybrid-portfolio strategy supports an evolution to a digitally driven future.
For the customers and partners, the event ends with a keynote from Allan Boardman, a seasoned business advisor focusing on information risk management and security with more than 35 years' experience working for various organisations. This session is titled "How to survive and deal with an audit". I am sure that the tools and capabilities provided by One Identity play a significant role.
Day 4, we bid adieu to our customers and focus exclusively on One Identity Partners. They will learn more about the tools and capabilities that One Identity is creating and enhancing to help partners develop their skills and IAM knowledge.
Overall, One Identity UNITE in Nice is set to be very rewarding and fulfilling for both customers and partners. A mix of fun and interaction with leaders and specialists, and this time customers get the chance to network with One Identity partners to develop and strengthen long-term relationships.
This taste of what's in store for our UNITE Nice event should be enough to whet your appetite. There's still time to register and join the fun, but we're almost at capacity, so don't hesitate. You can get more conference details here.
Together, we #GetIAMRight