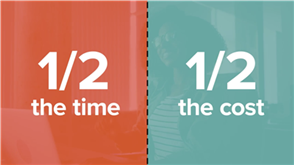 Sometimes half isn't great, like when my husband only pours me half a glass of wine or when I have to share half of my favorite dessert. But other times half is awesome, like only having to work a half day or realizing I am halfway through the work week!
At One Identity, we believe that sometimes half is exactly what you need, especially when it comes to the cost and time it takes to implement your Privileged Access Management (PAM) solution. We also believe that PAM solutions should be easy to deploy, maintain and integrate with your business processes – and they shouldn't change the way your users work. One Identity's next-gen PAM portfolio delivers all the protection, visibility and scope you need in the quickest time to value.
To prove it to you, we created the One Identity PAM Challenge where we demonstrate to you how we can deliver our solutions at half the cost and in half the time of our competitors. Don't pay twice as much for half the value – take the One Identity PAM challenge today!
Take the One Identity PAM Challenge
Make us prove we can deliver next-gen PAM technology.
Take the PAM Challenge