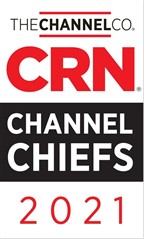 Our partners are crucial to our business, growth, and success. Over this past year, we have been dedicated to deepening our relationships with partners and investing resources to help empower our partners and help them navigate through uncertain times.
We are happy to share that CRN has named our Global Head of Channels & Alliances, Andrew Clarke, to its 2021 list of Channel Chiefs. This annual list recognizes leading IT channel vendor executives who continually demonstrate outstanding leadership, influence, innovation, and growth.
"I'm immensely thankful and honored to CRN for naming me on their 2021 Channel Chiefs list," said Andrew Clarke, Global Head of Channels & Alliances, One Identity. "We were able to quickly adapt our campaigns, programs, and resources to enable partner success in a rapidly changing digital environment. I'm looking forward to continuing driving partner success in 2021."
Under Andrew's leadership, One Identity has seen impressive growth in the channel with strong partner involvement across the globe. This past year alone, One Identity has been able to refresh its partner portal to increase content accessibility and relevance, improve partner enablement, extend partner awards globally, and collaborate with the Quest Microsoft Platform Management team on go-to-market initiatives. One Identity also successfully held its first virtual UNITE conference that had an almost 100% growth in the number of attendees from 2019. By adapting resources and training to meet the needs of the remote workforce, One Identity was able to broaden the reach of its program and had 67% of its global company sales linked to channel partners.
"CRN's 2021 Channel Chiefs list includes the industry's biggest channel evangelists, a group of individuals who work tirelessly on behalf of their partners and drive growth through the development of strong partner programs and innovative business strategies that help bring business-critical solutions to market," said Blaine Raddon, CEO of The Channel Company. "The Channel Company is proud to recognize these channel influencers and looks forward to following their continued success."
Andrew Clarke's recognition of being named in CRN's 2021 Channel Chiefs list comes alongside One Identity's recognition in CRN's 2020 Cloud Partner Program Guide, CRN's 2020 Emerging Vendors list and continues the achievement of key channel team members being named on CRN's 2020 and 2018 Channel Chiefs listings. One Identity continues to demonstrate our commitment to our outstanding channel partners.
CRN's 2021 Channel Chiefs list will be featured in the February 2021 issue of CRN Magazine and online at www.CRN.com/ChannelChiefs.
Learn more about One Identity Partners and joining One Identity's Partner Circle Program at https://www.oneidentity.com/partners/.