I have a CSV file. I have created Sync project with "Data Import" option to make it not FULLSYNC. I have added one more connection variable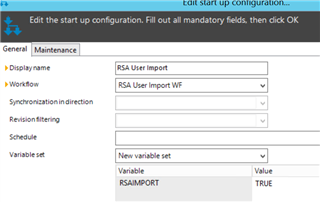 My requirement is :
1. Template Needs to be Executed
2. My Custom Process for Update Event should not trigger when I do import from Sync Project
- Generating condition is
Value = Not CBool(Connection.Variables("FULLSYNC")) and Not CBool(Connection.Variables("RSAIMPORT")) and $UID_UNSRootB$ =Connection.GetConfigParm("Custom\RSA\AuthentigationManager\UIDUNSRootB")
But it does not work. My custom triggers during sync project import.
Am i missing anything ?