One Identity has been named as an Overall Leader in the 2021 KuppingerCole Leadership Compass for Privileged Access Management. This recognition is based on our combined rating for product, innovation, and market.
We believe that our Overall Leader position in the report is the result of our broad PAM portfolio, depth in supporting advanced use cases, such as DevOps for PAM, and ease of use and deployment (including SaaS-based PAM).
The 2021 KuppingerCole Leadership Compass for PAM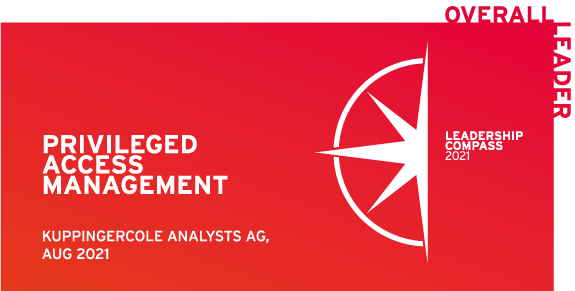 Each year, the KuppingerCole Leadership Compass for Privileged Access Management analyzes the PAM market and its key players. Their research helps buyers find the product that best meets their needs.
As noted in the introduction to the report:
"Privileged Access Management (PAM) is an essential component in protecting organizations against cyberattacks, ransomware, malware, phishing, and data leaks. No longer only for protecting admin accounts, privilege management now extends across the entire organization - from on-premises and cloud infrastructures to every user, no matter where they are working from, or what they are accessing."
The KuppingerCole Leadership Compass for PAM provides in-depth ratings and reviews of 26 leading PAM products. The report compares products based on standardized criteria for three areas: Product, Innovation, and Market. The Overall Leader rating is based on a vendor's results for these three areas.
Results for One Identity Safeguard Privilege Access Management Solutions
One Identity Safeguard was named as an Overall Leader for Privileged Access Management, as well as a product and market leader. One Identity also earned a positive or strongly positive rating in the areas of security, functionality, interoperability, usability, deployment, market position, financial strength and ecosystem.
Key One Identity Strengths
KuppingerCole noted the following strengths for One Identity's PAM solutions:
Much improved capability for DevOps environments with native Kubernetes support

Fully featured PAM platform that now addresses the SaaS market in latest release

Easy to understand interface shared across all modules with support for both CLI and GUI

Good reputation for enabling smooth deployment, integration and scale for many organizations

Simple integration with One Identity IAM products will appeal to organizations already invested in the ecosystem
Security and Productivity in a Modern PAM Solution
As we continue to execute on our next-generation PAM vision, our goal is to advance the state of PAM in four areas:
We are thrilled to see analyst firms like KuppingerCole recognize our progress. To learn more about the PAM market and why One Identity is rated an Overall Leader, download the report.