Hackers want access to your privileged accounts, which provide unlimited access to your systems and data. In nearly every recent high-profile breach, lapses in security and user practices were exploited by hackers to get their hands on privileged account credentials.
To prevent a breach and to limit the damage if one does occur, you need to have a privileged access management program that enables best practices so that your organization has a secure, efficient and compliant way to provide access and monitor privileged accounts.
One Identity Safeguard by Quest can reduce the stress and worry with your privileged accounts. This innovative privileged access management solution gives your organization a secure way to store, manage, authenticate, record, audit and analyze privileged access. One Identity Safeguard enables organizations to provide the full credentials when necessary or limit access with granular delegation for least-privileged and just-in-time access. Safeguard detects and thwarts threats while satisfying security and compliance requirements.
One Identity Safeguard Products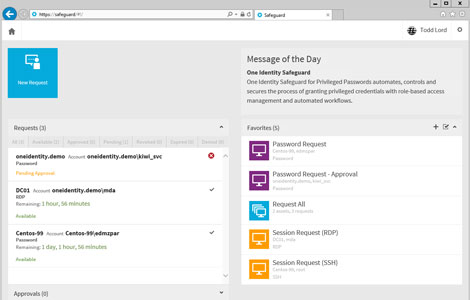 Safeguard for Privileged Passwords automates, controls and secures the process of granting privileged credentials with role-based access management and automated workflows. The user-centered design of Safeguard for Privileged Passwords means a reduced learning curve. Plus, the solution enables you to manage passwords from anywhere and using nearly any device. The result is a solution that secures your enterprise and gives your privileged users a new level of freedom and functionality.
Key Features
Quick Discovery and onboarding of assets
Automated workflow engine
Approve passwords from anywhere
Full REST API
Free personal password vault for business users
Read Datasheet: One Identity Safeguard for Privileged Passwords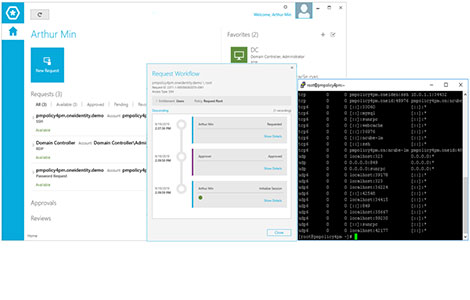 Safeguard for Privileged Sessions enables you to control, monitor and record privileged sessions of administrators, remote vendors and other high-risk users. Content of the recorded sessions is indexed to make searching for events and automatic reporting simple so you can easily meet your auditing and compliance requirements. In addition, Safeguard for Privileged Sessions serves as a proxy, and inspects the protocol traffic on the application level and can reject any traffic that violates the protocol – thus it is an effective shield against attacks.
Key Features
Full session audit, recording and replay
Real-time alerting and blocking
Initiate workflows or deploy in transparent mode with no changes to users
Full text search including Optical Character Recognition
Read Datasheet: One Identity Safeguard for Privileged Sessions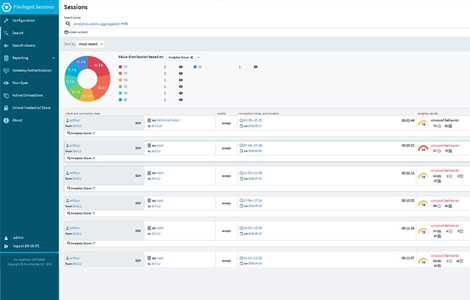 Safeguard for Privileged Analytics monitors questionable behaviors and uncovers previously unknown threats from inside and outside of your organization. By using user behavior analytics technology, Safeguard for Privileged Analytics detects anomalies and ranks them based on risk so you can prioritize and take appropriate action -- and ultimately prevent data breaches.
Key Features
Pattern-free analysis to detect unknown bad behaviors
Full content analyzation, including screen content, issued commands and windows titles
Use keystroke dynamics and mouse movement analysis to help identify breaches
Reduce alert noise by categorizing alerts by risk and deviation levels
Read Datasheet: Safeguard for Privileged Analytics
One Identity Safeguard On Demand is SaaS-delivered solution that combines a secure password safe, and a session-management and -monitoring solution with threat detection and analytics all managed and delivered from the cloud.
Full-strength PAM with SaaS delivery
Mitigate potential damage of a security breaches
Meet compliance requirements
Identify and stop risky behaviors and unusual events
Integrate Unix, Linux and Mac OS X in Active Directory, while extending the compliance and security of Active Directory to your enterprise using Safeguard Authentication Services. This solution creates an Active Directory Bridge enabling users to log on to non-Windows systems using their Active Directory credentials. With centralized authentication and single sign-on, your organization can improve operational efficiencies and achieve compliance with cross-platform access control.
Key Features
Consolidate identities and enforce separation of duties
Extend Windows Group Policy to non-Windows systems
Leverage existing investments in infrastructure and skills
Single sign-on for Unix, Linux and Mac
Read Datasheet: Safeguard Authentication Services
Sudo has a proven history of delivering value; however, management of sudo can be cumbersome. With One Identity Safeguard for Sudo, you can centralize management of sudoer policy files. Easily generate reports on sudoer access rights and activities, and enable keystroke logging of all activities performed through sudo.
Key Features
Centralized management of the sudoers policy file
Keystroke logging of all sudo activities
Access rights and activity reporting for sudo
Leverage existing investments in infrastructure and skills
Read Datasheet: One Identity Safeguard for Sudo