Typically the weather in Malta in November is sunny and very warm (20C+), which is how the week started on Monday morning, and for those participants who arrived early, there was time to enjoy the scenery and sunshine, and although the temperature remained high, the rain started on Monday afternoon. This did not dampen the spirits though, and our pool-side welcome party moved indoors and provided the ideal opportunity to reacquaint with colleagues and partners. An early night for some, prepared the event for the big opening on Tuesday.
Tuesday
In Malta, we elevated the production levels of our UNITE Partner event – from the unifying name to the surrounding brand. As the introductory music filled the main ballroom of the Excelsior Grand Hotel in Valletta that overlooks the azure waters of the Mediterranean Sea; the stage was set for a fast moving and informative opening session. After the event welcome and opening introduction from Andrew Clarke, Director Strategic Partnerships and Channels, EMEA; Product Management Director Jackson Shaw outlined some of the progress that One Identity has made in last year.
Ian Sutherland, VP and GM, EMEA, then outlining his leadership team. Then, Jackson returned to the stage to explain the ongoing innovation taking place within One Identity.
Following the break, a rapid moving session identified how One Identity is structuring to support partner success – at all levels of the business.

Andrew Clarke highlighted the features and the benefits of the One Identity Partner Circle program. Then in rapid succession, Partner Marketing was covered by Jonathan West; pipeline building and demand generation by Killian Whooley; Pre-Sales by Susanne Haase; Support by Gordon White; Expert Services by Gordon Patzschke and Carrie Woods; and finally Hicham Bouali covered technical collaboration and the One Identity Connect collaboration tool.
Next on the agenda was Taming Tigers – a highly energetic key-note address from international motivational speaker Jim Lawless; one of the most popular inspirational speakers in Europe and the only authority on business change and personal development to have put his life on the line to prove his approach! Jim outlined the Ten Rules for Taming Tigers and explained the challenges he set himself and progressively overcame as he illustrated with full audience participation what it felt like to ride a race horse.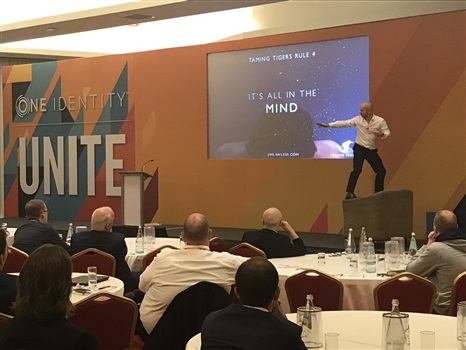 Throughout the event, the partners were able to access the One Identity UNITE app. A well thought out; interactive and informative smart device app that provided information on all aspects of the event. It also was way for attendees to network with other attendees, One Identity staff and presenters. The app also includes easy links to social media and a fun CLICK game.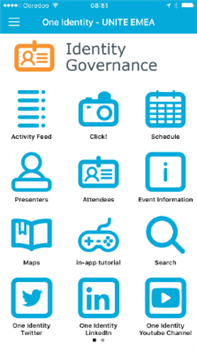 When we surveyed our audience from one year ago, a key requests was for a more interactive experience. We certainly delivered on that as we assembled the product teams from across One Identity, including: Access Governance; Privileged Access Management – including Safeguard; Access Management and Starling. Partners also had the opportunity to hear from these team members in the technology break-outs in our new networking session on Wednesday afternoon. This provided the opportunity to ask questions and get answers direct from our experts. Also providing an opportunity to express what is happening in local markets and influence how One Identity continues to evolve in the future.
Wednesday/Thursday
As we opened the event on Wednesday morning, our pre-sales team took to the stage to cover some key topics designed to provide our partners some broader inputs on drivers for customer issues and challenges. Patrick Hunter turned GDPR into an opportunity to strengthen your customer engagements; Susanne Haase - Identities in the Cloud - security and compliance with a comprehensive Identity Management concept; Rudy de Sousa - 3 Pillars that support Effective Risk Management.
An additional product management workshop on Thursday was well attended and provided a thorough outline on the new solutions: IAM 8.0; Starling and Safeguard. It also provided the opportunity to ask questions.
A partner perspective from Guillaume Mathieu; CTO – Metsys – a One Identity partner based in France provided a detailed overview of their engagement with an enterprise customer and how one Identity solutions were helping them get Identity Right!
One of the highlights of the event was the Celebration Dinner – a short distance away from the hotel to an exclusive restaurant location overlooking the illuminated city of Valletta. A perfect setting for an evening which was both relaxing and entertaining. Local 17-year singer/songwriter/pianist, Emma Muscat opened the evening with a selection of her own compositions and familiar tunes. An insightful overview of One Identity team members by our special guest, Jim Lawless provided some humorous moments leading up to the One Identity Partner Awards 2017.
One Identity Partner Award Winners – 2017
Each of the EMEA sub-regions had an award winner, from which the EMEA Partner of the Year was selected.
Regional Partner of the Year Awards 2017
Regional Partner of the Year (Nordics): Tieto
Regional Partner of the Year (Central): ITdesign Software Projects and Consulting
Regional Partner of the Year (UK&I): Cyberinc
Regional Partner of the Year (Middle-east): Exceed IT Services
Regional Partner of the Year (Iberia): Omega Peripherals
Regional Partner of the Year (Benelux): Intragen
Regional Partner of the Year (France): Metsys
Regional Partner of the Year (Emerging Markets): CROC
Special Partner Awards 2017
Long-term Partnership: StarLink
Innovation: Cyberinc
One Identity Customer Success Story: Exceed IT Services
Partner Awards 2017
EMEA Best Solution Sale: Devoteam
EMEA Best New Partner: Centerprise International
EMEA Partner of the Year: Intragen
One Identity EMEA Partner of the Year 2017: Intragen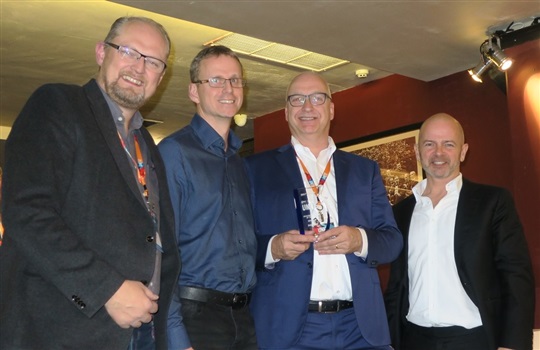 L – R: Ian Sutherland, VP and GM, EMEA One identity; Colin Miles, Intragen; Boele Ter Wisch, Intragen; Jim Lawless
A full outline of each of the partner award winners is provided in a follow-on blog.
The UNITE Partner conference has proven to be the ideal time for partners to recommit to their relationship with us as we continue to innovate and drive opportunities for new business and wider customer relationships. Our commitment to our partners has never been stronger and our partner program, One Identity Partner Circle, has established a strong foundation upon which to build profitable partner relationships.