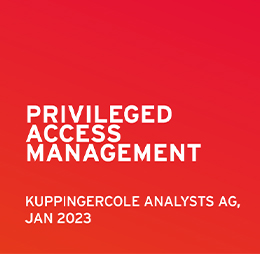 KuppingerCole has positioned One Identity as an Overall Leader in the 2023 Leadership Compass for Privileged Access Management (PAM)
Each year, KuppingerCole analyzes the PAM market and its key players. Their research helps buyers find the product that best meets their needs. One Identity is thrilled to be recognized as an Overall Leader in the KuppingerCole Leadership Compass for Privileged Management. This rating is based on our combined rating for Product, Innovation, and Market.
We believe that our Overall Leader position in the report is the result of our broad PAM portfolio, depth in supporting advanced use cases such as DevOps, and ease of use and deployment (including SaaS).
Read the full report, with research completed in 2022, to gain a comprehensive view of the PAM market and why One Identity is rated an Overall Leader.