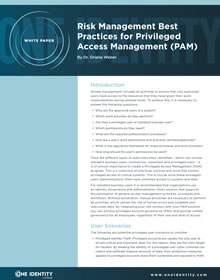 Implementing a PAM-focused risk-management strategy is an effective step to take to prevent data breaches. Your organization will be better prepared to act quickly and limit the damage if a breach were to occur.
Read our white paper, Risk Management Best Practices for Privileged Access Management (PAM), written by One Identity's Oriana Weber, PhD. This short paper features a simple eight-step assessment plan that will put your organization on solid foundation to protect its privileged users and critical resources. It also provides best practices for each step of the plan.
This plan, framed up by common privileged-user scenarios, will help you develop an effect risk-management strategy that addresses the following questions:
What are the risks to your organization?
How can you mitigate them?
What is the process to deal with a privileged-data breach?