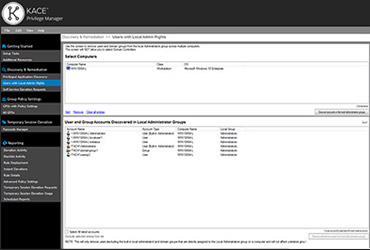 Maintain a least-privileged, GDPR-compliant environment while empowering your workforce to elevate and manage their own user and administrative rights with KACE Privilege Manager. Apply and leverage pre-packaged and community elevation rules that make it more affordable to maintain security, yet still being able to afford your users self-help capabilities, even in a locked-down PC environment. See how with KACE Privilege Manager you can:
Quickly and easily elevate and manage user and administrative rights
Maintain a least privileged environment
Manage each user and desktop individually by automatically elevating permissions with privilege elevation rules
Discover applications that require administrative privileges and apply pre-defined privilege elevation rules
Delegate privilege management responsibilities to OU-level admins in organizations of all sizes
Control user-level access to unwanted or suspect applications
Seamlessly integrate with Active Directory and Group Policy Objects.