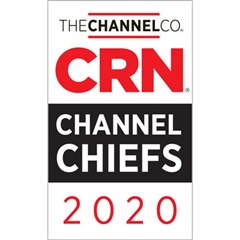 We won – well, Roger Moffat won. Roger, our NAM Director of Channel and Alliances, has been selected for the 2020 CRN Channel Chief Awards. This is a true testament to his efforts in developing One Identity's Partner Circle Program into a successful partner network that delivers outstanding offerings, training and more for One Identity's partners.

In the past 18 months we have recruited and trained a channel-centric sales and marketing team, resulting in One Identity welcoming nearly 400 new global partners, bringing our total to well over a thousand active partners. We also expanded the Partner Circle team leadership with Solution Architects, GSI and Alliance Account Leads and Partner Enablement Specialists.
Last year we initiated our partner program for global systems integrators (GSIs). This program helps world-leading consulting firms manage an explosion of new users and devices. In 12 months, Accenture, KPMG and EY all signed on as partners – and the success can be measured in new closed deals. GSIs now have trained resources and have developed practices with our technology stack.
2018 CRN Channel Chief-honoree and our Head of Global Channel Strategy, Andrew Clarke, established our global partner conference series UNITE just a few years ago. In the last year, Roger helped take the event to new heights, increasing partner attendance by 100% year-over-year, with dedicated tracks for partners. Building on the initial success of the event format, Roger and team introduced certification training, and we now have an executive track for attendees to see how our products and partner services change the businesses of our customers.
We also introduced a highly influential interactive discussion forum, the Partner Advisory Board, which gathers partner feedback on the market, solutions and trends to guide our efforts in this field. "The biggest myth is that the channel only fulfills orders," says Roger Moffat. "By highlighting deal registration organizations can quickly debunk this myth – demonstrating that the channel brings in deals that the sales team could not or would not. Organizations can remove this misconception by having accurate measurements in place and shifting the channel conversation from fulfillment to value-add."

This belief led us to shift focus to deal registration, which improved the profitability of our partner program and improved the value of our relationships. To quantify the impact of this shift: we've seen a 150% growth in closed deals with 47% growth in deal size and 68% more partners participating.
What is a Channel Chief?
Channel Chief honorees are selected by CRN magazine's editorial staff on the basis of their professional achievements, standing in the industry, dedication to the channel partner community and strategies for driving future growth and innovation. The award confirms that all the 2020 Channel Chiefs have demonstrated loyalty and ongoing support for the IT channel by consistently promoting, defending and executing outstanding channel partner programs.